It is accurate to state that a kitchen countertop is the heart of every kitchen. It sets the tone and mood of any kitchen.
A bright and clean countertop gives the kitchen life while a dull and dirty one spells doom and gloom for the kitchen.
Stepping into any kitchen showroom will have you spoilt for choice because of the variety of kitchen countertops available.
The different materials available include granite, laminate, marble, wood, and soapstone countertops. Each of these materials has its different strengths and maintenance needs which sell them to the clients.
Before purchasing your dream kitchen countertop, it is important to know what you are signing up for. Your countertop should not only be an aesthetic piece but should also serve its purpose of purchase.
To keep the countertop looking clean and glossy, you ought to take proper precautions and clean it the right way. Cleaning of your countertop and sink is one of the first steps in cleaning your kitchen.
Luckily, in this information age, there are plenty of online resources that will give you tips on true and tried ways of cleaning countertops of different types.
This article, in the usual insightful kitchenhandsdown style, provides guidelines on how to clean the different types of countertops stated above.
Cleaning wood countertops
Wood countertops can serve you well if properly cleaned and dried. However, leaving them with excess moisture for excessive periods of time can cause damage to them.
Equipment: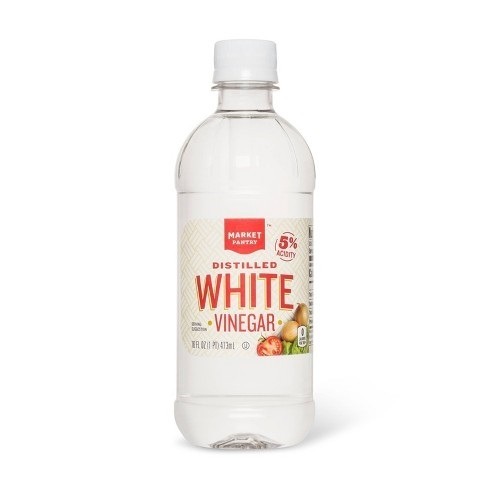 Distilled White Vinegar
Lemon
Warm water
Non-abrasive cleaner
Spatula
Microfiber cloth
Daily cleaning 
To maintain your countertops' sleek look:
Clean the surface daily with a non-abrasive cleaner and a mixture of distilled white vinegar and warm water.
Scrap off leftover food residue using a spatula.
After cleaning, wipe the countertop and leave it totally dry.
Stain removal
To get rid of stains:
Pour some salt on the stain.
Slice a lemon into two and use one half to rub on the salt.
Rinse the resulting salt residue with water and vinegar.
Sealing 
Seal your solid-wood countertops with either food-grade oil or wax to protect them from cracking or warping.
Cleaning marble and granite countertops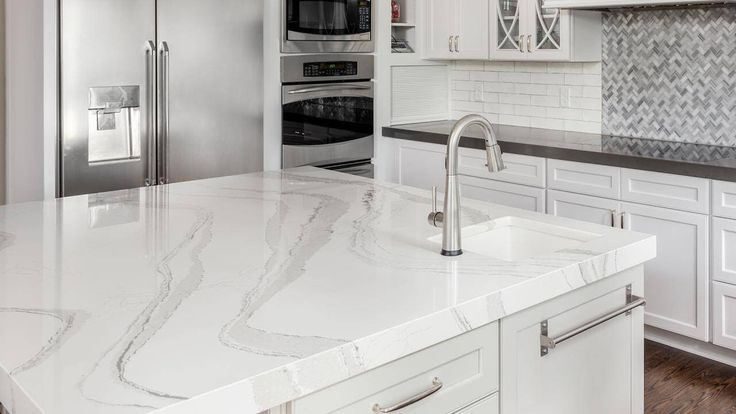 Though granite and marble are among the most durable and strongest options out there when it comes to countertops, these still need the right maintenance to help ensure they stay gorgeous and glistening.
Before granite and marble are designed into a countertop, it goes through cutting, polishing, and sealing. Since they are naturally occurring, the flecks of pattern and color differ from stone to stone.
Actually, most people buy at local store suppliers, so they are able to select the precise slab they want for their bathroom or kitchen.
After you've spent this much time selecting the right product, it is essential that you know how to clean up the countertop and ensure it stays gorgeous for many years.
Requirements:
Dish soap
Hydrogen peroxide
Baking soda
Microfiber cloth
Plastic Wrap
Daily cleaning:
Use a mixture of warm water and a mild dish soap to clean the counter daily. Buff with a microfiber cloth to give the stone a shiny look.
Do not use abrasives or harsh chemicals like acidic cleaners to damage the sealer and etch the stone.
Stain removal:
Before using any detergent or chemical, do a spot test to ensure that the method will not damage the stone. Different stains require different treatments.
For oil or grease stains, use a paste of baking soda and water. As for water-based stains, use a paste of baking soda and hydrogen peroxide.
Once you have applied the paste to the stain, cover it with plastic wrap to hold it down and let it stay overnight or even longer.
Rinse the paste off with clean water and use a clean cloth to dry. If the stain persists, repeat the process till there is no more stain.
Sealing:
Marble and granite countertops are popular for their durability. However, to protect them from stains, you need to reseal the surface regularly, probably every year for granite and after every few months for marble.
Here's how you can remove food residue from a granite countertop daily:
Clearing the area: Take the food supplies and small appliances off the countertop to reach each section of them. Wash the dish towels, and throw away old, dirty sponges to avoid bacteria spreading and the growth of mold.
Mixing warm water with mild detergent: You can mix the right amount of dish soap with water in a spray bottle, bucket, or sink.
Wet the microfiber cloth: Spray or dip a microfiber cloth using the lathered water to ensure it's wet. Avoid dripping water as too much of it may stain the surface of your countertop.
Wiping down your countertop: Get rid of the residue, crumbs, or stains you see on the countertop surface with the microfiber cloth.
Use another cloth to dry the surface: Wipe down the countertop with a dry, clean microfiber cloth to avoid streaking. Additionally, you may want to use a granite polisher to treat the countertop.
Cleaning laminate countertops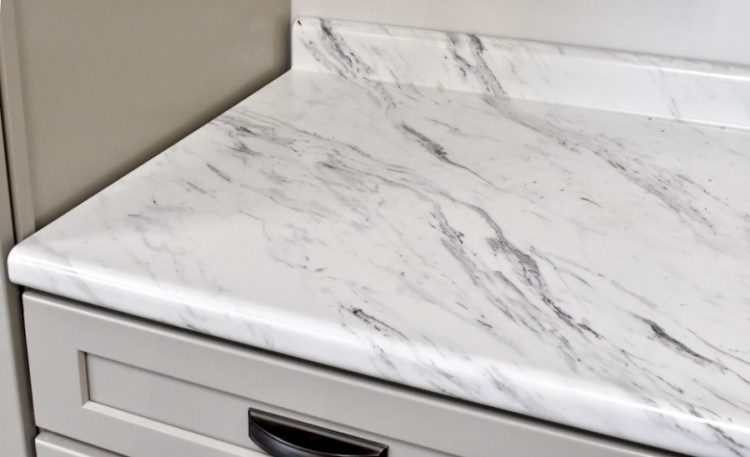 Laminate countertops are durable, stain resistant, easy to clean and also look good. They also come in a variety of designs and colours which can resemble other types of countertops such as those made of marble.
Requirements:
Baking soda
Mild household cleaner
Microfiber cloths
Daily cleaning:
Avoid harsh chemicals like alkali or acids and products like scouring pads or steel wool on laminate surfaces.
To clean, pour a mild, non-chemical liquid detergent with water on a clean cloth. Wipe the surface using the cloth and after that, rinse with a clean wet cloth.
Stain removal:
Create a paste of baking soda and water. Spread the paste on the affected area and leave it for around 5 minutes. Rinse it off with a clean cloth.
Do not scrub the baking soda since it is mildly abrasive and can lead to scratch marks.
Moreover, do not let the paste sit on the surface for long as it can damage the material. Repeat the process if necessary.
Sealing:
Formica is among the most durable material, hence may not need any sealing.
Nevertheless, avoid cutting foods or placing hot pans and pots on the laminate countertop to prevent scratches and burns.
Cleaning quartz or engineered stone countertops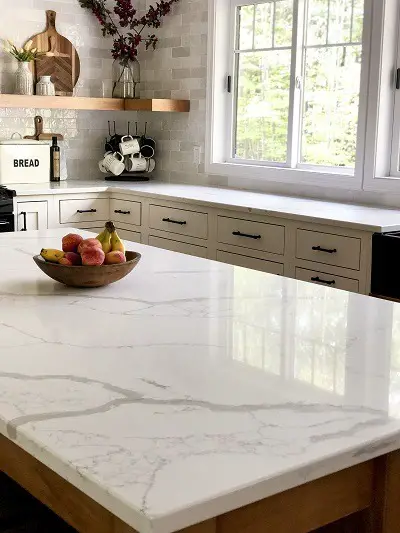 https://graceinmyspace.com/affordable-quartz-that-looks-like-marble/
Requirements:
Dish soap
Non-abrasive sponge
Non-abrasive surface cleaner
Water
Microfiber cloths
Daily cleaning:
Similar to other countertops, you can clean this countertop with mild dish soap and water.
Stain Removal:
Quartz countertops are popular for their stain-resistant feature. However, if you have a persistent stain that soap and water cannot handle, you can use a glass cleaner with a non-abrasive sponge.
Sealing:
Quartz countertops do not require any resealing in their original state.
Cleaning stainless steel countertops
Tools: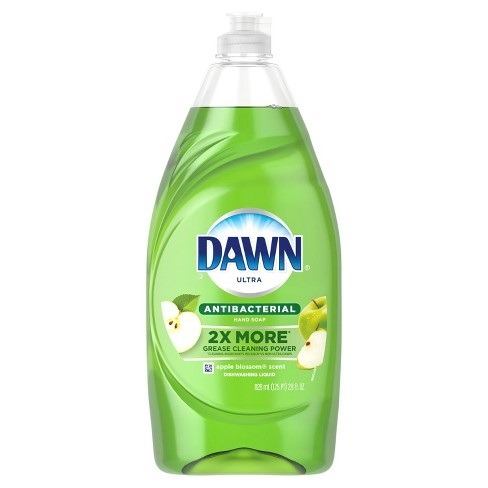 Lemon oil
Baking soda
Dish Soap
Microfiber cloths
Stainless-steel cleaner and polish
Daily cleaning:
One of the reasons why stainless-steel equipment is common in the kitchen is its easy cleaning. Like most of the countertops, all you need is to wipe it with a soapy cloth.
To avoid soap and scratch marks, use a cleaner designed for stainless steel material and a microfiber towel to buff the surface. Avoid using harsh abrasives that can scratch the surface.
Stain removal:
Regardless of the name, stainless steel is also susceptible to stains. To remove the stains, make a paste of baking soda and dish soap and clean using a soft cloth as you rub in the direction of the grain.
Sealing:
Sealing your stainless-steel countertops is not mandatory though you may need to polish them regularly. Using a microfiber cloth, lemon oil, or stainless-steel polish, polish the surface in the grain direction. After that, dry and buff with a clean microfiber cloth.
Cleaning soapstone countertops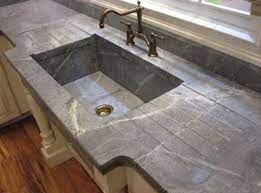 Requirements:
Multipurpose cleaner
Mineral oil
Fine-grit sandpaper
Microfiber cloths
Daily cleaning:
The non-porous nature of the natural stone makes it stain and scratch. You can clean it with any multi-purpose cleaner that is not abrasive.
Stain Removal:
A multi-purpose cleaner gets rid of the majority of stains on the soapstone countertops. For tougher stains, use fine sandpaper, not rougher than 80 grit. After sanding, apply some mineral oil to shine the surface.
Sealing:
The appearance of the material changes after some time. Using mineral oil on your countertop hastens the oxidation process and thus giving the stone a darker appearance.
Some people opt to use mineral oil to enhance the stone by bringing out its color, but others choose to leave it and let it discolor naturally.
Mineral oil not only brightens your countertop surface but also prevents it from stains.
General maintenance tips 
Do not chop food on the countertops.
Wipe off spills immediately.
Do not place hot pans or pots on the countertop.
Avoid the use of harsh chemicals and abrasives.
Polish or reseal the surface after some time.
Conclusion
No matter which kind of countertop you have in the kitchen, it is essential to clean up as you go when you prepare food. Doing this will help avoid stains, unhygienic conditions, and even build-up.
Frequent cleaning up your home surfaces, particularly the kitchen countertops, will get rid of dirt, dust, and other contaminants, together with viruses and germs.
Whenever possible, we should make every effort to clean countertops and the kitchen using natural cleaning products.
With this in mind, this article has mostly recommended use of those natural products like lemon, vinegar and baking soda for both cleaning and stain removal.
Lately, it is become very important to maintain sanitary conditions in all places to minimize the spreading of COVID-19.
With the tips mentioned above, you can reduce the risk of infection from unsanitary countertops and protect yourself and your loved ones.