Renovating your kitchen can be a lot of fun, thrilling, and pleasing all at the same time. If you are fortunate enough to be tearing down the existing cabinets and starting from scratch, you can design a kitchen ideal for your specific needs.
Keeping this in mind, you should think about how your kitchen needs to function before making a decision. What is the primary purpose of your kitchen? Are you a frequent host who requires an enormous oven? Do you enjoy cooking but prefer to use your kitchen as a gathering place for friends and family?
These purposes should guide your kitchen's design, from the layout and storage to the appliances and seats. Because there are so many kitchen design options, it's easy to become sidetracked. Having a clear vision of what you want from your space will help you stay focused.
Here are things to keep in mind when planning a kitchen renovation:
If you want a new look for your house, why not start with your kitchen? In many families, the kitchen is a central location for socializing and interacting. If you want your kitchen to serve your family's needs for breakfast, schoolwork, and a late-night snack, you've got a lot riding on it.
If your kitchen needs a remodel but you do not have any ideas, don't worry. When it comes to kitchen renovation, you don't have to go overboard or break the bank. Your kitchen renovation project will go much more smoothly if you consider your family's demands and use your imagination.
Organization and storage
A well-stocked and well-organized kitchen is a must for any home cook. Kitchens can benefit from a wide range of stylish and reasonably priced storage and organization products. Instead of replacing your cabinets, consider adding shelves.
Wants
You may need to alter your priorities if you can't afford the dishwasher you originally wanted. If you own a working dishwasher but want to replace it with a more modern model, put it on your wish list. Even though it should not be the top priority, it should be lower on your list of priorities than the other issues.
Difficulty
If you're a first-time kitchen renovator, getting in over your head is easy. You can rely on professional kitchen renovators to free up your time to focus on your family and job. They will not only provide guidance on what appliances and other items to include in your custom kitchen revamp but also complete the installation for you.
Needs
There are a few things more important than ensuring your fridge and stove are working properly if they are on the verge of breaking down. When redesigning your kitchen, things like peeling paint or a kitchen table that's too tiny for the growing family should be at the top.
Budget
Every household's budget is different; however, remodeling your kitchen doesn't have to break the bank. Painting your cabinets and updating the cabinet hardware are two low-cost ways of making your kitchen look brand new. A tile backsplash instead of a new tile countertop may be an option if you want the look of the tile but do not have the funds to redo your entire counter. Remodelers in the kitchen can offer you an estimate of the project's total cost.
Adjust the color scheme
Refreshing the color scheme of your kitchen is the simplest and most cost-effective way to make it appear more opulent. Using a new color scheme will revitalize your kitchen's look. Choosing a monochromatic color palette for your kitchen can give it a high-end feel. Inject some color into the room with a black accent wall. If you're afraid that black will make your kitchen feel smaller, you're not alone. Consider royal purple as a possible color option. Make your kitchen a work of art by lighting it up.
You should also incorporate neutral tones to give your kitchen a modern feel. Consider using colors like grey, coffee brown, and taupe for the open shelves, flooring, and backsplash to give your kitchen a more contemporary appearance. Include metallic accent pieces in your cooking space to make it look stunningly sophisticated. Adding these to your kitchen will give it the luxurious feel you've always wanted.
Consider updating your kitchen floor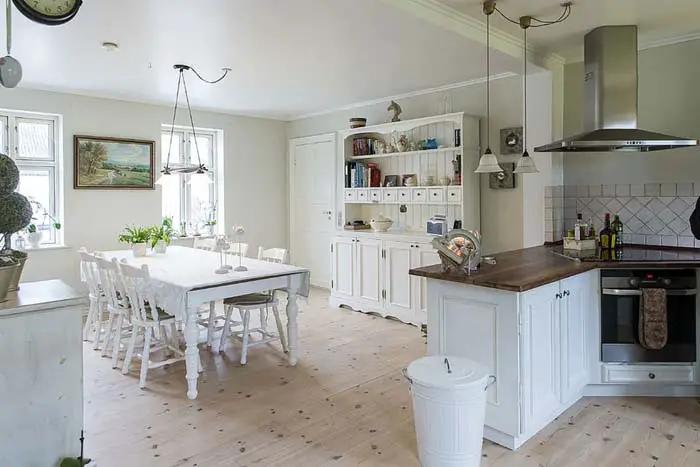 In the kitchen, it's easy to overlook the importance of the floor. It's easy to neglect the surface underneath your feet when so many restoration alternatives are at eye level. As with any other element of a house, kitchen floors take a hammering over time. If you cook with hot oil that bubbles, spits, and gets all over the floor, your floor will get dirty and ruined. This has the potential to add up over time. Investing in new, more durable flooring that's easier to maintain can pay off in the long run. Choose ceramic tile, faux wood alternatives, or hardwood for a floor that is easy to clean and will last for many years. It's impossible to overstate the impact of new flooring on a room.
Incorporate glass fixtures
Adding a touch of elegance to your kitchen with glass accents is both delicate and magnificent. The best thing about glass is that it can be used in many ways. Adding a sliding glass door to your storage shelves will allow your guests to admire your excellent teacups in style. Your kitchen will appear lighter and airier with the addition of glass cabinets. Consider installing glass shelves in your cooking area in order to give it a more open feel. These allow light to enter while also providing storage space.
A refrigerator with a glass door is another eye-catching option for your kitchen renovation. Your kitchen will look more modern and classy if you install this type of cabinetry. Additionally, you can add a luxurious feel to your kitchen with the following:
Photo frames
Display wine glasses
Glass candelabra
When Remodeling Your Kitchen, add a pantry.
These days, the pantry has been a popular addition to kitchen remodels, but it's a classic, so adding it to your kitchen renovation will not be out of style anytime soon.
Including a pantry in your kitchen makeover is a smart move, regardless of the size of your kitchen. Larger designs may work better in bigger kitchens. This is because they can hold more than just food, such as small tins and dried goods.
Upgrade the lighting in your kitchen
A bright kitchen is essential for a successful culinary experience for more than just aesthetics. Poor lighting highlights the dullness of an already dull space, like a kitchen. Replacing your old bulbs with energy-efficient LED bulbs is a great idea. You can also add dimmers and track lighting to change the room's mood as you see fit.
Installing new, more efficient kitchen appliances
Switching to newer, more energy-efficient appliances in your kitchen is a great way to save money on your utility bills. Appliances like stoves, washing machines, fridges, ovens, and smaller units such as toasters have newer models that use less water and electricity. The Energy Star label on these products shows that they meet or go above federal standards for how much energy they use.
In the long run, buying new appliances can increase the value of your house. Obviously, a house with newer kitchen appliances will be worth more than a house with equivalent but older equipment.
Shelving, not cabinetry, is the best choice
Rather than constructing top cabinets, try to use open shelves instead. Making the room look bigger while also introducing an unanticipated touch is possible with this technique.
Get the right countertop
The countertop remains the most active part of the kitchen. You must pay attention to it in order to get the best results. You can use countertops for many different things. For the most part, cabinets will support this horizontal work surface. Get creative with your countertop design when working on a renovating project in your home.
There is a vast range of possibilities for kitchen countertops. Granite countertop materials are a thing of the past. When choosing a countertop material, we now have a wide variety of materials, like wood, quartzite, marble, stainless steel, quartz, and more.
When renovating your kitchen, consider a kitchen island
You have plenty of time to think about layout while renovating a kitchen so that a kitchen island can give the room a new feel. The key to a successful kitchen revamp is ensuring that the island is in balance with the rest of the space. If you're short on counter space, add a low-height dining island to the end of an existing worktop run so that dining chairs can fit underneath. Small kids will appreciate the coziness of a design with rounded corners and softer edges.
A kitchen island with integrated appliances, seating, and storage is a great choice to expand your kitchen.
Adding depth and efficiency to a kitchen by installing a kitchen island makes the room feel more spacious. They can also be ideal in a variety of ways. It is possible to use a kitchen island for everything from food preparation to serving as a dining table. Spending as little or as much money on this function is also possible. Choose a design that works well with the rest of your kitchen's arrangement, and you may use a freestanding table in the middle of the room as an island for no cost.
Improve the look of your kitchen's flooring
Tiles are a great alternative for kitchen flooring since they are durable, stylish, and require no upkeep. Other flooring options, like linoleum, marble, wood, and so on, are ideal for kitchen renovation projects.
Bring personal touches
A kitchen is a place where you may express yourself. Adding a shelf to show off your mug collection, a unique clock, photographs, and a few potted plants can accomplish this. Your home should show who you are; these personal items can give you ideas for your next meal.
Updating the kitchen cabinets
Your kitchen renovation ideas list should include cabinets since they may completely improve the look of your kitchen and increase the value of your kitchen revamp. It's not always necessary to replace the kitchen cabinets from top to bottom. However, if the situation warrants it, you should be ready. Changing the cabinets in your kitchen doesn't have to be a pricey undertaking; all it takes is a change in paint color. Wood cabinet knobs and pulls that match your inspiration for kitchen ideas are ideal for renovating your existing cabinets.
Use all of the available space
Make the most of the available space when revamping. A cupboard or pull-out rack cupboard maximizes your kitchen's functional space. Included in this are small areas like those adjacent to the refrigerator.
Add a tile backsplash
It's impossible to cook gourmet meals for your loved ones without a beautiful backsplash behind you. When it comes to the sputtering and dripping, you can't control it, but you can prevent it from ruining your white kitchen's wood paneling or subway tile.
In order to keep your new kitchen from becoming a mess, placing a tile backsplash in a strategic location is best.
You can pre-install the structures or use them as temporary measures while cooking. New kitchen and interior design ideas can make removable tile backsplashes possible.
You can also use laminate or wax to protect your backsplash and kitchen walls as a best practice.
Remodeling your kitchen with open shelves is a great idea.
People no longer frown at the sight of silverware. According to professionals and laypeople, open shelves have become a prominent trend. The kitchen's open shelves evoke a sense of spaciousness. As a result, compact modular kitchens benefit greatly from their inclusion.
Install white open shelves in your kitchen to draw attention to a dark-colored paint job or wallpaper. A little open shelf can be hung on a wall near a window or in one of the corners of a kitchen. In addition, it allows you to be more creative and experiment with the design.
Succulents, tea glasses, and silverware are perfect on the open shelves.
Mistakes to Avoid When Remodeling Your Kitchen
Picking up all the newest styles. Not all styles will work for your home.
Selecting the appliances as the final step of remodeling your kitchen
Trying to DIY
Lack of ability to make decisions
Choosing the incorrect size
Overly complex kitchens
Inappropriate budgeting
Conclusion
The kitchen is the most frequently utilized area in a home. Undermount porcelain sinks keep your kitchen looking new for a long time. Consider the ideas above while renovating your kitchen. This will ensure that you get the luxury kitchen of your dreams.