You certainly put in a lot of hours working in your kitchen. Entertaining guests. Correcting homework. Preparing meals. When guests come to your house, they are one of the first people to see this room. However, does your cooking space showcase your one-of-a-kind aesthetic? Or do you often find yourself wanting certain improvements to be made?
If your kitchen is dull and uninviting, upgrading it will make your property more desirable and increase its value. One of the best investments you can make in your house is a kitchen remodel, no matter how small. However, the most significant benefit is that it can transform your kitchen into the de facto "family room" of your house.
Think about implementing some of these ideas to spruce up your kitchen:
Organize and display
Showing your favorite spices, utensils, and cookware is a great way to free up cabinet space. It will also add a touch of creative flair to your kitchen. You can accomplish this in a number of different ways, some of which you can purchase, such as pot hangers or spice racks. Others you can create on your own, such as with decorative hooks or a painted pegboard.
Replacing old hardware on the cabinetry
Cabinets look much older than they are if they have old cabinet handles and drawer pulls. Changing the hardware on the cabinets can give them a fresh, modern look without completely replacing them if they are still in good condition. In addition, it's a terrific do-it-yourself project that you can complete in a weekend. Need a little more style in your design? Find elegant glass knobs in the colors and shapes you like.
Upgrade the utensils and cookware
When it comes time to prepare a meal, do you have problems locating a suitable knife? Do you have a cutting board, spoon, or spatula that has seen better days? Do you still use the same pots and pans you were married with? It could be time for some long-overdue upgrades.
Make a note of the items in your kitchen you dislike the most, and then go shopping for some brand-new cookware, plates, utensils, or drinkware. Pick out a few special products you'll love using daily and some ornamental pieces to liven up your dull kitchen.
Make a whiteboard or chalkboard wall
A chalkboard wall is a fun, functional, and eye-catching addition to any kitchen. Any wall, no matter how big or small, may be transformed into a stylish chalkboard for messages for loved ones, this week's menu, or a grocery list with the help of chalkboard paint. And it's something that your guests will comment on.
Dislike the strewn chalkboard in your kitchen? Whiteboard paint allows you to make a comparable menu board or message center.
Upgrading the curtains
It can feel even darker if your kitchen has old, dated curtains or blinds. However, new window treatments can easily inject color or texture into the room.
A brightly colored shade or sheer cafe drapes are great options for short windows. Color-coordinated curtains or long, flowing drapes work effectively on more oversized windows. Even cheap sunglasses can be custom-made with a pattern of your design.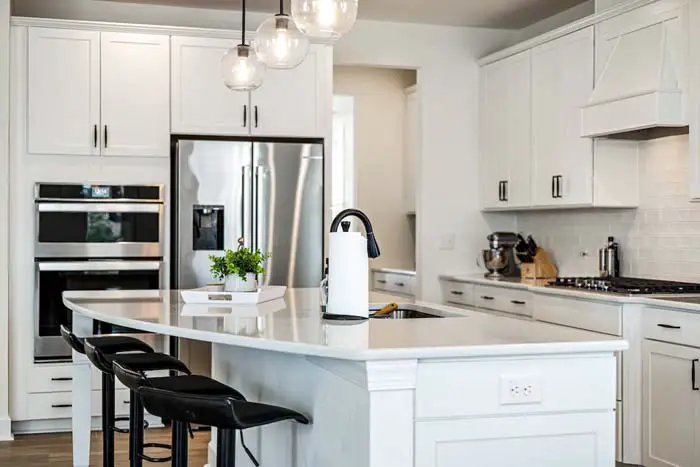 Upgrading the lighting
Old kitchen lighting can bring down the vibe. Modern lighting fixtures can be easily substituted for antique ones.
You should install additional lights to make your kitchen more pleasant and your daily tasks less taxing. Extra illumination is essential when cooking, so installing LED track lighting underneath cabinets is a good idea. Increase the light in your kitchen by installing halogen spotlights in key locations.
Use accessories to add style to your kitchen
Adding ornamental touches you enjoy is a great way to give your kitchen more character. It's okay to flaunt your collection of vintage teapots and an array of bright bowls.
If you have a favorite color in the wallpaper or the backsplash, consider accessorizing with that color. Even in all-white, all-neutral, all-gray, or all-black kitchens, accents of color are a welcome addition.
Enhance the look with a one-of-a-kind backsplash
Spending a lot of money to make a statement with your backsplash design is unnecessary. You can find inexpensive, straightforward-to-set tiles at your neighborhood hardware store or home improvement store. You're not restricted to using tiles. You may add flair to your backsplash using wallpaper, vinyl tiles, or painted bead board.
Replacing the faucet and sink
Investing in a new sink and faucet helps your kitchen stand out. You might want to add an undermount sink for increased beauty and versatility, but this decision will depend on your demands and budget. This is especially handy if you consider upgrading your countertops to ones made of solid surfaces later.
Changing out the faucet can do more than update the aesthetics. Replace your current kitchen's sprayers with a pull-out spray faucet. Space is conserved, and a contemporary aesthetic is achieved.
Decorating stools and dining chairs
Need a quick fix to brighten up your dull kitchen? Transform dull stools or dining chairs into eye-catching furniture by painting them. This is a great way to inject color into a kitchen with a one-color scheme. You can do this by selecting a color from your favorite wall art or tile and highlighting it.
Decorative pillows are a great alternative to painting if you want to avoid committing to a large project.
Incorporate a kitchen island
Do you require additional space for your meal preparation, cooking utensils, or bakeware? Including a utility cart or kitchen island in the space could be the optimal answer. This is because they offer additional work and storage opportunities, respectively. You can create a custom kitchen island or purchase one already made at numerous home improvement stores or other retailers.
Custom kitchen islands provide the most excellent flexibility. This is because they may be tailored to your kitchen's specific sizes. They can also be outfitted with storage solutions that cater to your specific demands.
Upgrade the countertops and cabinetry
Getting new countertops and cabinetry is a certain way to take your kitchen from dull to fantastic. This may be the most costly improvement, but it will pay dividends in the present and when you want to sell your house.
Repainting the walls
A new coat of paint can give any space in your house fresh air. The same holds true in the kitchen. In fact, by selecting a new color scheme, you can completely alter the mood of the space.
If your cabinetry is light, you can create visual contrast by painting the walls a deeper shade. Lighten up a room with a contrast between the dark cabinets and the wall.
Use vibrant colors to make a statement or inject some life and energy into your kitchen. The possible outcomes are limitless.
Creating an accent wall
Need help finding the motivation to paint every wall in your house? Pick one wall to serve as a showcase and color it boldly. Decorative tiling and wallpaper are other options for making customized textures and designs.
Conclusion
Sprucing up your kitchen requires little more than a healthy dose of imagination. There are many ways to breathe new life into a dull kitchen, from adding decorative touches and better lighting to switching up the wall color and installing custom cabinetry.