The thought of modernizing your kitchen may fill you with dread and anxiety. This is because of the time and money it would require. It's important to consider the cost of replacing expensive items like cabinetry, worktops, and appliances when deciding how to modernize an old kitchen.
Do you want to modernize your kitchen but fear the extent and cost of a major renovation? There are many steps you can take to provide your kitchen with an update without breaking the bank. If you want to modernize your kitchen, you may either DIY or hire a professional.
Here's how you can modernize an old kitchen.
Swap out your floor tiles
The flooring in your kitchen is a crucial component that is frequently overlooked. This is despite its significance in the overall design of the room. Wood, tile, or stone flooring is more durable and will stand the test of time better than the more commonplace rolled vinyl or linoleum. Investing in these materials is a great way to increase your home's value and longevity. Ceramic tile and slate are two other options.
Update the hardware
All you need to modernize an old kitchen may be installing new cabinet pulls, knobs, and other hardware. You can significantly impact the kitchen's atmosphere even if you select the same finish for your faucets and sink but go in a completely different design direction.
Upgrading your kitchen's appliances
When determining whether or not something is regarded as "old," age is almost always the determining factor. And for other people, being old also means being out of date. If you have older kitchen equipment, consider upgrading to newer models made of stainless steel. The longer an appliance has been in use, the higher the risk that it may eventually stop functioning properly. You may alleviate some stress for yourself in the future and bring your kitchen up to date at the same time.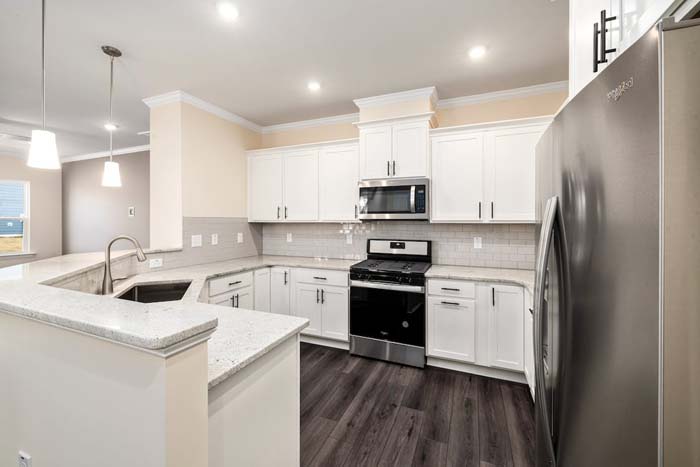 If you are planning to modernize any of your kitchen appliances in the near future, consider purchasing ones that are more energy-efficient. You will be able to reduce your energy consumption. This will not only be beneficial to the environment but also to your monthly costs.
Use paint to update your current cabinetry
Do you not have the budget for new cabinets? If you want to save money without replacing the cabinets, consider painting and staining them. You'd be surprised at what a little effort and fresh color can do for your old cabinetry, from distressing the doors to adding paint stains and glazes. Here are some bright ideas for painting your cabinets.
Forest green
Coral
White
Cream
Navy blue
Black
Upgrade the old countertops
The countertops in your kitchen also take up a lot of space. While older homes may have inexpensive vinyl or uncomfortable tile-and-grout for workspace, modern homes have many options. From natural stone to solid surfacing, everybody's budget and style can be accommodated. Here are some materials from which you might construct your brand-new contemporary countertop.
Brick
Granite
Quartz
Wood
Tile
Marble
Soapstone
Have seating available
The kitchen is typically the section of your house that sees the most foot traffic. It is also the room in which people are most likely to congregate. The majority of modern kitchen designs incorporate seating into the space. Seating can give your kitchen a completely different feel and look, no matter what kind of seating you choose. A bench at a window side table, seats at a breakfast bar, countertop stools, or a banquette are all considerations.
Upgrade your metals
Metals used in kitchen hardware are another typical example of a material that has seen better days in a kitchen decades out of date. Manufacturers' introduction of novel materials suggests a reevaluation of such fixtures as lighting fixtures and drawer pulls. Cookers, lighting fixtures, and cabinetry are places to test some of these trendy metals.
Copper
Brushed gold
Stainless steel
Matte aluminum
Add decorative elements
The kitchen is a terrific spot to display decorative items that reflect the homeowner's character and way of life. Looking for some motivation? Below are some suggestions for modernizing your kitchen's aesthetics.
Colorful fruit should be displayed in a bowl.
Place a flower vase on the kitchen counter.
Exhibit your prized collection of cutlery or culinary books.
Mount shelves above storage units to display artwork and plants.
Installing new lighting options
The lighting is really important! Most homeowners often ignore lighting in the kitchen despite its importance to the room's versatility, ambiance, and safety. Recessed lighting is a great option for a modern kitchen with only one overhead light fixture.
Installing a dimmer switch can give you more control over the lighting in your home. This makes it ideal for late-night snacking, cooking, or even parties. Under-cabinet lighting to highlight work spaces, chandeliers, and pendant lights over an island are popular in modern kitchen lighting.
Installing a brand-new and exciting backsplash
The backsplash is yet another component that, with only a moderate amount of time and money invested, may be modernized to transform the appearance of your kitchen entirely. A terrific way to make a noticeable change in a short amount of time is to either add a new tile to your kitchen or replace the tile that is already there. This is the case irrespective of whether or not your location already has a backsplash built into it.
When replacing old tiles with newer, more modern ones, you can choose a tile that works in the available space and doesn't break the bank. This is a project that professionals can finish in a single weekend. If you can't afford a traditional tile backsplash, consider using peel-and-stick tiles instead.
Peel-and-stick backsplashes are available in a wide range of designs and colors. They'll give your home a stylish makeover that is both short-lived and budget-friendly.
Get a new paint job for the walls
There's no need to put off painting the walls until you complete a major remodel. Why not give the kitchen a little TLC with a fresh coat of paint? Your kitchen can flow nicely with any adjoining room using a complementary color scheme. You can even attempt painting over other wall finishes, such as tile or brick.
Repaint the cabinets
Painting your cabinets will give you a new look at a reduced cost if they are in good working condition, but you would prefer a different style than they now have. You need some basic DIY skills to paint the cabinets on your own and give them a new look. You may also take them to a paint shop and spray them with a factory-quality finish.
Conclusion
You can modernize your old kitchen in many different ways, from the materials and finishes you can use in the available space to the lighting and color palette. Choose the elements that will work best in your house, and give your old kitchen the makeover it desperately needs.