Slippery areas are one of the many risky areas that have led to numerous accidents. Slipping is the act of sliding due to a lack of grip with the surface.
For a long time, slipping and falling have turned to slapstick humor; however, these accidents are no joke. Slipping accidents has led many to the emergency room.
Slippery floors are common kitchen hazards. These accidents can cause fractures and sprains, traumatic brain injuries leading to permanent disability or death.
In addition, slipping accidents also have a huge impact on the legal world. Such accidents amount to huge compensation claims and large hospital bills, making it not only health risk but also a legal risk and very expensive.
The most common cause of the slips and falls are slippery floors. The kitchen is susceptible to slips as it hosts most of the activities involving the main slipping culprits.
Most commercial kitchen floors are normally made of naturally porous quarry tiles. Soaps and grease tend to stick in the small holes, which can form a slippery layer.
Low-friction tiles, grease, water, and clean up residue can all cause slippery floors, and you will probably get any or all of them in the kitchen.
Whether operating a commercial kitchen and ensuring your staff's safety or you are simply trying to protect yourself and your loved ones in your house, take safety measures immediately to prevent slippery kitchen floors.
Some solutions are temporary, and others permanent; some are more aesthetically appealing than others. Choose the solution that will best meet your needs.
Surfaces that are most slip-resistant include:
If you want to offer your kitchen slip-resistant flooring, one important thing you can do is installing top-quality materials that maintain traction, even when dirty or wet.
Ceramic tiles can be created with grit, which improves traction and makes the tile a lot more dependable. Conversely, quarry tiles are quite slip-resistant, even when drenched, making them common in businesses and restaurants.
Granite and marble, unluckily, provide little slip-resistant when drenched.
Special things to consider under one's feet
Unlike your home's other rooms, your kitchen is usually used every day; either as a meeting point for activities, cooking food and storage, or simply family or group dining.
A kitchen gets lots of traffic unlike any other room in the house; save perhaps the bathroom. Both rooms are regularly exposed to moisture.
From frequent traffic, cooking, washing dishes, fridges/ice makers, to sinks, moisture affects every kitchen surface, particularly the floor. Waterproof is important when it comes to selecting flooring.
Because of the number of adults, children, and pet feet strolling through your kitchen daily, a durable floor is important.
Most kitchens double up as a "mudroom" with an outer entrance and all the moisture, dirt, and debris one may track from the outdoors to the kitchen floor.
In addition, similar to a bathroom, all the moisture on the floor will be an accident waiting to take place.
Most choices of waterproof flooring get very slippery when they have moisture. It would help if you considered non-slip choices for any flooring you install in a kitchen.
Keep in mind that working with a professional in this field will help you recognize considerations such as these. For this reason, you will be able to pick the correct floor option for the project.
Common Causes of Slippery Floors:
The kitchen floor can get slippery for a number of reasons, but below are the main causes:
Water
Oil
Soap residue
Excess floor polish or wax
Spread out food slips
Cleaning chemicals and polishing agents that are not compatible with your type of surface.
Ensure the safety of your employees, customers, or even family members with proper cleaning & maintenance tips as highlighted below:
Always make sure the floor is dry:
Clear any spilled water or fluid, water vapor from cooking foods, or high atmospheric humidity. Leaving even the smallest spill unattended is anticipating disaster.
Make the kitchen completely out of bounds whenever it is wet. This can be done by locking the door until you wipe it dry or putting wet floor warning signs.
Maintenance of the kitchen workplace:
Proper maintenance of the kitchen workspace will prevent leaks from the kitchen sinks and other equipment.
Use of a degreasing agent: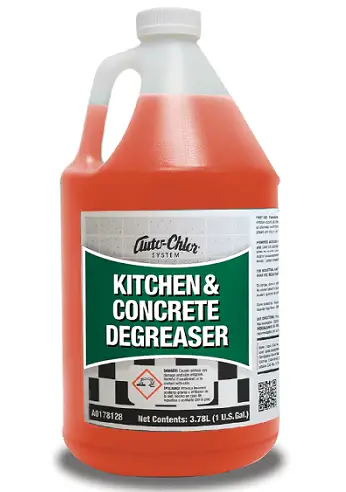 Oil is necessary for the kitchen area. Mopping oil spills with water or even dry mopping is insufficient to clear off the grease completely.
Use a degreasing agent suitable for your floor to ensure complete clearance of the greasy stains off the floor.
If you use the right materials, you can provide your floor with a non-slip coating. You can coat ceramic and porcelain floors to enhance them, as can concrete and travertine. The coating can make the kitchen surface less slippery and will usually improve the floor's durability.
Additionally, you can get products that help in improving your tiles' look, creating a pricey combination. This is the best tip on how to ensure the flooring in your kitchen is not slippery.
Use the correct cleaner or polisher:
A good quality cleaning agent or degreaser is essential in kitchen safety. Accidents can happen as you clean your kitchen floor. Using the wrong chemicals can cause the accumulation of a slippery layer.
The most common mistake made when cleaning floors is the use of generic agents and bleach.
Furthermore, avoid the use of dish washing soap or laundry detergent. Both contain fat with an emulsifying liquid that can cause grease buildup with time.
Use cleaners compatible with your kind of floor. To test your cleaning agent's suitability, pour some on a small surface, and clean the area the same way you would have cleaned the whole floor. Then check the effect of the cleaner on your floor.
Invest in the right kind of matting:
The most popular area for water to collect in your kitchen is right in front of your sink. Faucet and sink splashes and sprays usually don't get noticed until somebody slips and falls.
For a safer kitchen, sinks should have mats in front. The reason being they will gather any water and prevent the place from getting slippery.
Additionally, make sure the entryways have mats to prevent wet feet or shoes, creating a slippery mess. There are several mats designed for specific areas.
For the kitchen area, anti-slips mats are the best. The mats have better tractions that provide a firm grip even when placed on slippery surfaces. The use of these mats is a secure way to prevent kitchen slips.
Often sweep the floor:
The kitchen being a busy area, you'll never miss some dirt on the floor when in use. Often sweep off the food remains and other debris on the ground.
Before cleaning, sweep the floor to avoid food particles sticking on the mop and smearing on the floor.
Use a separate dry mop after cleaning and polishing: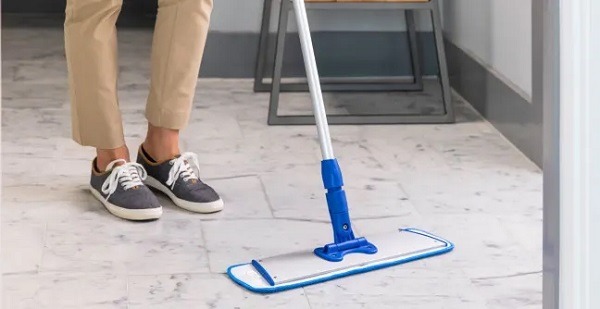 Residues of slippery agents such as soap or grease can stick on your mop. Using the same mop after cleaning may cause these slippery agents' formation on the floor once more.
Instead, opt for a separate dry mop for the final cleaning of the floor. Afterward, clean the cleaning mop.
Clean floors
Regularly clean the surface to eliminate residues that can cause a slippery floor such as grease, powder, or soap.
Select comfy flooring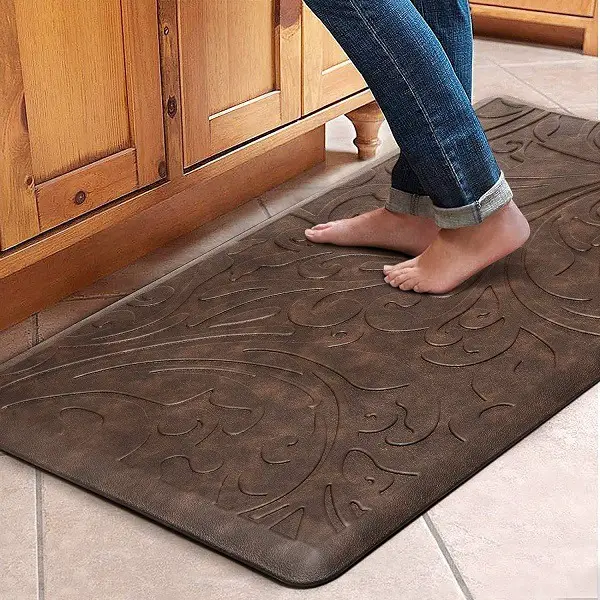 The right materials are eco-friendly, slip-resistant, and resilient. Comfy and slip-resistant flooring is important in a kitchen.
Slip resistance is important as spills, grease, and wet food items such as lettuce leaves will cause accidents.
Comfort under one's feet gets even more essential as one grows old. The feet, legs, and knees get easily exhausted while you stand on hard surfaces.
As beautiful as stone and tile floors are, dishes break very easily when you drop them, and they are exhausting to stand on.
If your kitchen's existing floor is in the best state, you can use new slip-resistant flooring to cover it without spending too much money. Two common options are linoleum and vinyl.
Linoleum is created mainly from linseed oil and has many hues, and it is environmentally friendly. Vinyl is plastic created from petroleum (not quite environmentally friendly) and is available in various patterns and shades, including stone and faux wood.
Once you have chosen the flooring material, select mottles hue tones that mask skid marks and dirt and matte finishing that minimizes slipperiness.
If you're not currently thinking about replacing the flooring in your kitchen, put a low-pile (polypropylene) or rubber mat with a slanted edge in front of the work area or sink to help in minimizing slips and fatigue.
The proper way to clean the kitchen floor to prevent slipperiness
Add water to the cleaning solution and dilute it. Pour it on the kitchen floor if there is a floor drain, and where there is none, use a mop and bucket to spread the solution.
Brush the porous tiles with a hard bristle deck brush. The brush can access the tiny holes on the tile to remove the hidden grease.
Let the solution settle for about 5-10 minutes as you scrub with the deck brush. This will emulsify the fat from the grease. At this point, notify other employees of the wet floor and restrict the people's movement.
Rinse with clean water using a hose pipe if there is a kitchen drain. If it doesn't exist, mop with a bucket of clean water and constantly change the water.
Drain the emulsified fat down the drain. Use a vacuum cleaner to remove any excess water.
Tips for proper maintenance of the kitchen floor
For any fluid spill or grease, clean it up instantly before it causes an accident.
Always have a separate mop for cleaning the kitchen area. This is to prevent taking kitchen grease to other parts of the house.
To brighten your kitchen tiles, use a non-slip treatment after application of the degreasing agent. This will not only eliminate buildup of the soap but also increases the grip of your floor.
Use the degreasing agent every day to avoid the accumulation of grease.
Always let the degreasers sit on the floor for 10 minutes or more to emulsify the grease and rinse with clean water.
Sweep the kitchen floor regularly throughout the day to get rid of fallen food particles.
Change the bucket and cleaning solution often to avoid time wastage by spreading soap and grease over and over again.
Dilute the degreaser according to the manufacturer's instructions, not according to your preference.
Choose the proper footwear when cleaning, and even when working in the kitchen area, preferably rubber or urethane soles.
Things to consider when purchasing kitchen flooring
The kitchen is the focal point in your house, where you get-together for parties and prepare food for the whole family.
The floors in this area should stand up to plenty of spills, dropped dishes, and heavy foot traffic. However, they should indulge in your desire for style.
How do you select the right kitchen floor? To start with, take these factors into consideration:
Comfort
If you're spending many hours on your feet, stirring, dicing, and slicing, think about flooring with resilience and softness.
For example, tile floors can be unpleasant to stand on for long. Wood is better for minimizing leg tiredness. And resilient flooring, with its softness, is comfy for feet. No matter what you go for, a soft rug or mat will add comfort too.
Cost
If you want to renovate, the budget is most likely divided among light fixtures, cabinetry, countertops, and much more. Where will the flooring fit in your plan?
Once you have decided on the flooring budget, measure your kitchen to know the square footage. Keep in mind that extra costs might apply, including removal and disposal of the previous floor, delivery, underlay, and installation.
Your sense of style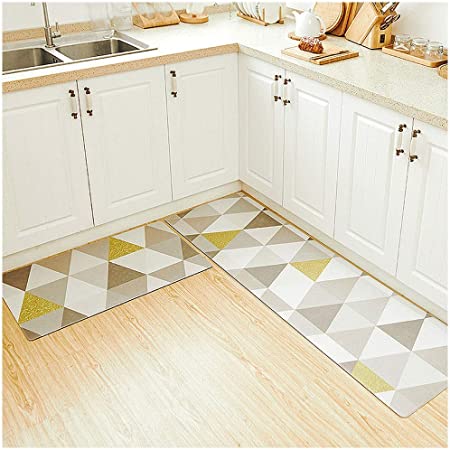 You should select flooring that complements the kitchen, whether it is state-of-the-art modern, country-style, or rustic. Think about the size of your kitchen, as well as existing patterns, textures, and colors.
Easy to clean up
Between tracked-in dirt and spills, flooring in the kitchen can become quite dirty. To reduce time spent on upkeep, go for a material that is not susceptible to staining, water-resistant, and a breeze to clean up.
Lifestyle
In your house, you are in control of everything that entails food preparation. Chances are, pets, children, and spouses, dropping silverware, and spilling sauces regularly takes place.
It is essential that you select flooring that withstands this kind of wear and tear. And if you're not relocating any time soon or you've got young kids, nonslip floors are essential for safety.
Conclusion
Proper floor maintenance is important in the prevention of slips in your kitchen area. Following the information provided above, you'll be sure to maintain a slip-free kitchen area suitable for use by everyone with no worry.