Every inch of today's modern kitchen must be functional, beautiful, and technologically advanced. This is to help achieve a good outcome in terms of kitchen design.
It is no longer uncommon for families to gather in the kitchen at the beginning or end of a long day to enjoy a meal together. Rather, the kitchen has risen to prominence at the heart of the home, where everyone can enjoy it.
As with any trends in modern kitchen designs, clean and simple styles have been popular among homeowners. In addition, natural light has become an important part of the kitchen's overall appearance and functionality.
Here are the modern kitchen design trends to consider
Decorative worktops
A kitchen trend that may be considered ageless, porcelain surfaces will certainly dominate the market. It is easy to work with and comes in a variety of thicknesses, making it an excellent choice for wall cladding. A growing trend is to employ porcelain as a decorative surface to help merge areas.
Homeowners are now choosing brown terrazzo after seeing its rise in popularity over the past year. This gives your kitchen a rich vibe. Other popular options include lightstone and marble countertops. These have a natural appearance and feel but are less expensive than porcelain.
Marble surfaces showcasing vein patterns are great for creating a magnificent yet cost-effective kitchen design.
Statement kitchen taps
Consider installing a statement tap to add a dash of sophistication and beauty to your kitchen. Actually, it adds a little wow factor without overpowering the room's design or aesthetics.
Those with industrial-style knobs and brass bodies make excellent choices for kitchen faucets. These taps are a great addition to any modern kitchen because they look great and are made in an unusual way.
As a result, uniformity is key when it comes to kitchen design. It is important to select a faucet finish that matches the rest of your cabinetry and cupboards. In addition, you can accessorize it to reflect your style.
Dark hues for cabinets
We're starting to see white cabinets go out of fashion, despite their timeless appeal and ability to work in practically any kitchen design. Look for islands stained or painted in various hues to add color and interest to an all-white kitchen. The combination of finishes adds an accent piece and extra splashes of color for the daring.
Blue and green tints are expected to be the most popular for these flashes of color. Dark jewel tones like plum, navy, black, and emerald green are becoming popular alternatives to these natural-looking neutrals. As a result of its dramatic and rich sense, dark kitchen cabinetry can function well in and improve a kitchen.
Elegant and elegant, dark kitchen cabinetry conveys a sense of luxury that other solutions simply cannot. They give the kitchen a theatrical feel. The key is not to let it overwhelm the space and create a gloomy atmosphere. However, more and more homeowners opt for dark cabinet colors in their kitchens today. Black and deeper tints are becoming the most popular colors in most fashionable homes.
Open shelving
The doors on your cabinets are getting a little out-of-date. The trend for open shelving means that refacing is unnecessary. You can attain roominess and openness in the kitchen by removing the doors. If you don't have a lot of counter space in the kitchen, you may want to consider installing open shelves instead of cabinets. It's a great option for small and large kitchens, making it ideal for any home. That also allows for a wider range of design options. Plates and glasses aren't the only things you may add to a table. You can consider adding ornaments and plants. You can brighten the cabinet's interior by painting or wallpapering it in a bright color. Colors that stand out against a dark background will be more striking.
Statement lights and led lighting fixtures
Three or four methods of lighting the kitchen are important. These include statement lighting to generate a wow- factor, under lighting to illuminate dark spaces, and task lighting for work areas near the hob. You can transform a room using creatively designed, well-placed, and meticulously crafted ceiling lights. Lighting will no longer be an afterthought in kitchen design but rather a statement piece in its own right.
There is a compelling reason why LED lighting is the future. LED lights save energy and last longer than halogen, fluorescent, or incandescent bulbs, with a greater initial cost. They can also produce the cool or warm light temps your environment requires. With the flip of a switch, the proper lighting can turn a room from dull and dark to warm and inviting.
Appliances in built-in drawers
This is nothing new or cutting-edge, but it has only become popular recently. This is because people have gotten more concerned about the functional design of their kitchen spaces. Having appliances such as blenders and shakers in drawers makes working in the kitchen more convenient for those who don't move around. This is because open shelving makes everything more accessible and within your grasp. As a result, open shelves and drawer-style equipment will remain popular in kitchens for the foreseeable future.
Contrasting backsplashes
When it comes to kitchen design, contrasting backsplashes are all the rage. As well as making the kitchen more visually appealing, using contrasts in the design elevates it to a higher degree of style and refinement. Contrasting backsplashes let the beauty of the space shine out more than typical backsplashes, which provide a great overall aesthetic by complementing the kitchen countertops. These backsplashes, especially paint colors in modern kitchens, are a favorite of interior designers. This is because of their beauty and sophistication.
The kitchen island dinner table
Adding an island table to a studio apartment is a great way to maximize space. However, it's no longer considered a compact item that you can cram into a small space. Because the table's purpose is to make a statement, its design should do just that.
As a result, an island table creates a more intimate setting for gatherings with family and friends. But for longer meals, the table should include comfy seats.
Additionally, use seats that look like chairs to give the room a more "dining room" feel. Modern kitchen designs greatly benefit from the addition of dining islands. Your family will always be able to eat and work together in spite of their busy schedules thanks to this appliance.
This kitchen trend is a terrific choice if you frequently entertain in your kitchen. It raises the resale value of a house. That's not all, either. The island dinner table is a lifesaver in a disjointed or open-plan living area. You don't need to buy a dining table for your living room.
The use of wood in modern kitchens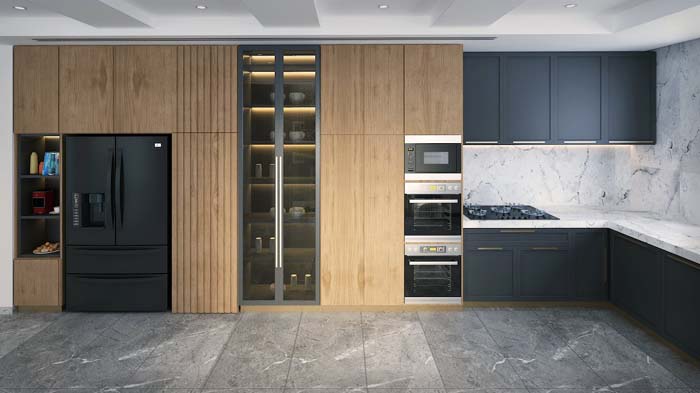 Wooden surfaces have a calming effect since they tend to evoke images of something more natural and hence more tranquil. In addition, these finishes are exquisite and give the overall design of the modern kitchen a classy appearance. As a result, wood finishes, which had fallen out of favor for some time, are making a comeback in modern kitchen designs. Some common wood finishes include varnish wood, lighter walnut or oak, subtle-grained ash finishes, etc. It is possible to incorporate them into kitchen cabinetry for a modern look.
Quartz still rules
Quartz is the king of the high-end kitchen countertop game. It is an anti-microbial and incredibly durable substance. It can last practically indefinitely. Granite is the main competitor in the high-end market, and it needs a bit more care than other materials.
When they initially hit the market, the primary concern with quartz countertops was a lack of finish and color options. As technology advanced, manufacturers began offering an array of colors and realistic stone designs. It's even possible to buy quartz that looks like natural stone, with massive veins and swirls that mimic the look of real stone. These distinct designs have proven a huge hit.
However, there is a noticeable shift toward more neutral hues. White, taupe, grey, and milky finishes are becoming increasingly popular among homeowners. Veining has replaced particles as the preferred pattern in the past few years. This fits the current trend of making things look simple, which you can see in most homes today.
Natural finishes
Adding natural finishes to modern kitchens may provide character, definition, and depth. Because of this, most homes are likely to start using natural oak drawer boxes and granite countertops again.
Homeowners and interior designers are turning to exposed wood components' relaxing neutral tones. In terms of style, they are a wonderful blend of traditional and modern. Since this kitchen design trend is so popular, you can't go wrong with it.
Smart Kitchens
Technological innovations in the kitchen go well beyond the usual appliances and gadgets. A modern kitchen incorporates technology into every aspect of its design, from the lights to the faucets to the refrigerator.
Motion-sensing kitchen faucets can turn on automatically or with a single touch when you place your hands beneath them, making them simple add-ons. A fridge that may send you an alarm when the food in your fridge is getting low, or a coffee maker that will be ready when you wake up with a fresh pot of coffee. Additionally, an egg-monitoring device alerts you when your eggs are nearing their expiration date. Remember to upgrade your lighting system so you can manage the lights from your tablet or smartphone.
It is becoming more common for people to experiment with new technology in their kitchens. This is expected to be a major development in most homes.
Open storage for limited spaces
Lately, hidden storage is turning into a huge trend. Even so, open storage shelving is not far behind.
People today desire to have fewer children. Because of this, there's a rising need for smaller houses. Kitchens are cramped, and storage is at a premium. A good example of this is the open-shelf kitchen cabinetry trend.
In order to make the most of your small kitchen, designers are creating creative ways to store your food. For example, if you have a glass backsplash with a magnetic holder, you may quickly clear your workspace.
In addition, the design includes a roll holder, a tablet holder, and a wine bottle shelf. As a result, you'll be able to keep all your essentials within your grasp. Because of this, a minimalist kitchen will benefit greatly from this design style. Why? Having open shelves means that your best purchases may be shown off while keeping the area clear.
Hot water taps
Food preparation and cooking necessitate the use of hot water. A solution that provides instantaneous access to boiling water is preferable. As a result, adding hot water faucets to one's kitchen is becoming a popular home trend.
In addition to saving time and effort, boiling water in a kettle or pan wastes energy. However, it does not end there. Boiling more water than you need is ideal in a kettle. In contrast, you can use instant hot water taps to control the amount of water you consume precisely. Consequently, there is no water waste.
As expected, the need for hot water taps will continue to rise throughout the year. There will be a gradual movement from kettles to this more efficient option. In order to enhance your kitchen decor while making your cooking process more convenient and efficient, this is a great option.
Painted kitchen
Are you looking for a fresh take on a classic style? Choosing a painted kitchen is a smart move since it draws attention to the furniture and the room's architecture. With its neutral color, it takes advantage of the ever-versatile gray. The result is that this is one of the trends in modern kitchen designs.
When it comes to gray, you can accomplish a lot using the "mix and match" method. Put it another way, you can use several colors of gray to paint the kitchen walls. When paired with the correct cabinetry and furniture, each color scheme may breathe new life into your kitchen's decor.
As a result, your kitchen's painted cabinets and furniture and marble or concrete countertops have a classic yet modern look. It also manages to produce a long-lasting and sturdy atmosphere.
Hidden storage
A kitchen is a place where a lot of work happens. Since we often have a large number of things to store. On the other hand, you should keep these items out of sight and not compromise your overall kitchen design. As a result, every kitchen needs a concealed storage solution.
Storage that you can hide and then find with ease is now possible. You can conceal the refrigerator or dishwasher by installing a simple cabinet. In addition, you can use a storage design to keep small appliances from taking up too much counter space.
Popular hidden storage options include department drawers, incorporated wine stores, multipurpose island units, pop-up shelves, and pull-out ladders. In addition, built-in appliances can significantly reduce your need for counter space.
A toaster and kettle hideaway stations are very popular nowadays. They allow you to keep your kitchen counter clear of these appliances. As a result, they aid in creating a designated breakfast space.
Conclusion
Technology, sustainability, storage, and spectacular beauty are some of this year's kitchen design trends. Actually, the "living kitchen" is made possible by the unique mix of all of these elements. This not only unites your family and home but also simplifies your life.
Lastly, we've reached the end of our thorough and helpful guide. Hopefully, you'll find a style or trend that best suits your kitchen's layout and design needs.