When you have a bar area in your kitchen, you have a convenient place for guests to sit and enjoy a short lunch or chat with you while preparing dinner. Creating a bar counter in your kitchen is a great opportunity to design it to your exact specifications. Alternatively, this might be a different peninsula or a new island.
For some kitchens, a built-in bar is the most visually appealing option. If you use the same material as the countertop, it will blend in. If you want to create a statement in the kitchen, think about using a contrasting material for the bar.
Why Have A Kitchen Bar?
Adding a bar to your kitchen has a number of distinct advantages besides the obvious visual attraction. If you're looking for a way to add extra storage and seating to your kitchen, consider a kitchen bar!
If your home has an open floor plan, you can use a kitchen bar to separate the living room or dining area from the kitchen. The appropriate kitchen bar design may add flair to your kitchen while offering the practicality you want.
Reasons you should have a kitchen bar
It creates a boundary
The presence of a kitchen bar in a space aids in establishing a boundary. If you share the kitchen with another area in your house, it works as a barrier. It will also allow you to converse with someone in the kitchen while avoiding being in the way of the action.
The kitchen bar might alternatively be in the middle of the room. The functions will be similar, but one major difference will be the absence of a sink or faucet in the bar.
A kitchen bar is a quick place to eat
If you're in a hurry, you may not have time to sit down and eat at the dining room table. As a result, you will quickly prepare something basic in no time. Then again, you will still require somewhere to dine. Consider the following alternative:
Eating at the kitchen bar instead of the dining table is possible. You can transform the room into a dining area with bar stools and tablecloths. Everything can be done in the kitchen without wasting time.
Another aspect to consider is that moving utensils and dishes is a lot less cumbersome. This entails a kitchen that is simple and efficient.
You can even stand in one spot at the kitchen bar and perform numerous activities.
Original and subtle
Seeing how the bar and the kitchen work together is fascinating, not just because of what they do but also because of how unique it is.
In most houses, you won't find a kitchen bar. So, it's a fantastic idea for a contemporary home. It is a method to make your kitchen stand out from the crowd and appear modern.
As a general rule, if you're looking to make your kitchen the best it can be, installing a kitchen bar is the ideal way to go about it.
Adding space
If you have too much cookware in the kitchen, you may be unable to fit everything in. Let's not get bogged down in all the many pieces of equipment you may own. If you have a lot, you will require more work surfaces and cabinets to keep everything in order.
When you start cooking, you will first need a cabinet or drawer to store everything you need. What if you added a kitchen bar to your counter instead of cluttering it?
An additional decorating area
After establishing your kitchen bar's functionality, it's time to learn about its aesthetic aspects.
On a kitchen bar, you may display anything from magazines, fruit bowls, vases, sculptures, a fishbowl, etc. Use it to improve the appearance of your kitchen.
As such, it is an integral component of the kitchen and matches the rest of the furniture in the room. When you place it in a certain location, it always has a lot to say.
Here are some kitchen bar ideas you can consider
Marble kitchen bar
You can't get the timeless elegance of marble countertops with any other material. For its durability and beauty, marble is a popular choice. Depending on your preference, you can use it in your outdoor and indoor kitchen.
Your kitchen breakfast bar will look more interesting if you use marble because of the grain in the stone. It can survive the environment and the changing seasons when you use it outside. To get the aesthetic you want, choose a marble with the right color and grain density for your project. Sealing it will ensure its safety.
Wooden breakfast bar
You can bring warmth and style into your kitchen in several ways by adding some wood. Wooden kitchen bars will range from modern and shiny to rustic and retro.
Depending on the kind of wood and the edge or cut you use, wooden kitchen bars can range from sleek and modern to rustic and everything in between. For a traditional butcher block countertop, use wood. Your breakfast bar will look more rustic if you use popular salvaged barn wood or shiplap.
Counter kitchen bar
Even if you're not remodeling your entire kitchen, you can still build a breakfast bar on top of your current countertop. Because of this, the bar and counter areas could be level and seamless. It would be possible to sit at the counter because it would protrude from the cabinet beneath it.
Alternatively, you can elevate the bar area just a few centimeters above the counter. In this case, you'd create the bar from the ground up, allowing the counter to extend over an open area beneath. If you have a kitchen island, a long counter, or a peninsula-style counter, this makes this design ideal. You can place a thick piece of wood on one side of a flat-top island to make a bar top.
Small kitchen bars
Having a kitchen bar is a multipurpose and practical addition to any kitchen. However, it is especially beneficial in smaller ones. Storage, seating, and extra work surfaces are all possible uses for this piece.
A kitchen bar can be the primary serving or eating space in a G-shaped or U-shaped small kitchen layout. This countertop is already functional, but it could be made even more so with the addition of some bar stools. This will help to make the most of your limited living space. If you have a small kitchen bar, consider sprucing it up with a splash of color. You can also use a more traditional style and neutral hues to create a warm and inviting kitchen.
Industrial kitchen bar
You can integrate the industrial appearance into your breakfast bar. Concrete is an option for the construction of such a structure. Alternatively, you might add a metal bar to your existing countertops.
If you are tight on space, you could create an industrial coffee bar inspired by commercials. There is room for a pendant light above this small coffee station in order to define the space. If that's the case, coffeehouse bar stools might be an excellent choice for seating.
Build-in coffee supplies into the bar area if you can. In order to store mugs, creamer, sugar, and coffee, you might use wood shelves and metal pipes at the bar's end.
Metal kitchen bar
Industrial and contemporary kitchens will benefit greatly from a metal kitchen counter. For your kitchen bar, there are numerous ways to incorporate metal into the space's overall design.
Use corrugated metal to give your kitchen bar a rustic appearance or wrought iron elements to give your kitchen a more industrial aspect. Pair it with a stainless steel or copper countertop for a modern look.
Kitchen breakfast bar
With a breakfast bar in your kitchen, you have the benefits of a counter and a table in one place. If you're in the mood for a fast bite to eat, this is the place to go; it's casual and functional.
There are many ways to use the space in a small kitchen, including a breakfast bar. As a bonus, it can be just as attractive and adaptable as the rest of your kitchen. If you want to host friends and family in your kitchen, consider adding a breakfast bar that extends into the living area. Wall-mounted counters for casual dining can also be an excellent way to maximize your space on the wall.
Rustic kitchen bar
Using wood is a no-brainer when creating a rustic bar. You can use a piece of reclaimed wood, a tree trunk, or a rough plank of lumber. There are many other options available to you. Consider butcher's block as an option. It is long-lasting and lovely.
You can also make use of natural stone as an alternative. In contrast to granite or marble, you should leave the edge of the stone unfinished. Using stone, it's possible to have an outdoor bar that blends with the natural surroundings.
Luxury kitchen bar
Add cutting-edge technology or premium materials to your breakfast bar if you want it to feel like a high-end establishment. Consider a custom-built counter with epoxy-mounted stones or crystals or granite or marble as the counter material.
A glass counter can be an excellent choice for a striking focal point. You may use a thick piece of glass to house lighting equipment.
Kitchen bar lighting
A well-lit kitchen can do wonders for a home's overall appearance. Lighting over the kitchen bar is another example of this. Lighting may act as a focal point or light up a room, depending on your style.
It's simple to see why pendant lights are so popular for kitchen bar lighting. It's possible to find them in just about any material or design variation you can think of. This makes them the perfect addition to any kitchen. A pendant light made of clear glass may brighten up a traditional kitchen. Alternatively, you might choose a funky contemporary fixture to give some flair to the kitchen.
Minimalist kitchen bar
Small kitchens benefit from minimalist bar tops. You can use your kitchen bar as a table and chairs when you don't have a dining room. To create a minimalist bar, you should use long, straight lines instead of a lot of decoration.
The bar counter should be colored and shaped in the same way. Shape your paper into a long rectangle using a solid color. Sleek bar stools complete this uncluttered look. Stools with straight lines and crisp corners should be sought out. Place the bar stools as close to the bar counter as possible to maintain a simple and uncluttered look.
Kitchen island bar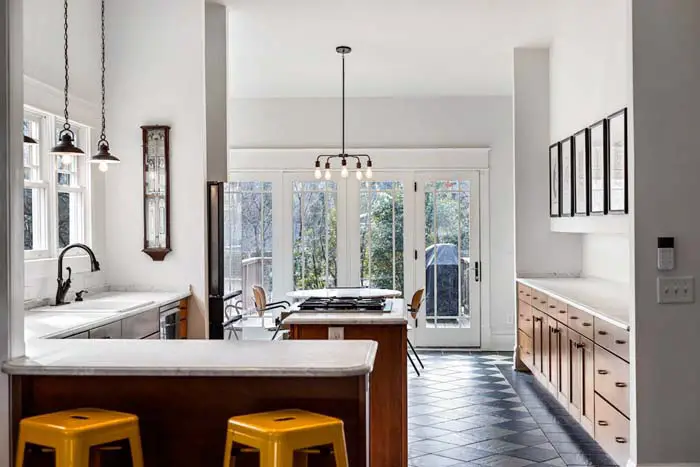 An island bar would provide you with more workspace as well as a place for you and your loved ones to gather for meals or chat.
In most kitchens, an island is the centerpiece of the kitchen. It will provide lots of countertop space as well as abundant cabinet storage. Adding a bar to your island is as simple as adding seating. Kitchen island bars are a great option for those who enjoy socializing while cooking. Cooking and a larger bar-height counter separate dining areas in some kitchen islands with seating that contains both.
Modern kitchen bar
Having a modern bar in your kitchen is essential. Alternatively, you may incorporate it into your countertops for a clean look. To make a tabletop out of the counter material, extend it beyond the cabinets.
Modern kitchens use color to draw attention to the bar stool area. You may paint the bar counter light or white, while the wall beneath it could be painted with a darker hue.
Kitchen bar stools
Bar-height seating is becoming increasingly popular as breakfast bars and kitchen islands become popular. Bar stools are a great way to express individuality while blending in with the rest of the room's decor.
Bar stools come in a variety of styles and price points, so you'll be able to choose one that fits your needs. Rustic and modern kitchens alike might benefit from industrial-style metal stools. Bar stools made of wicker or leather with a curved shape look great in a modern or bohemian setting.
Peninsula kitchen bar
With a peninsula already installed, you can create a separate bar area on one side of your counter space with a kitchen bar design. Cooking and prepping meals on one side of the island allows you to converse with guests and loved ones on the other. You can cook and provide drinks while having a party.
It's best to extend the counter overhanging the seating area in order to achieve this impression. People can then sit in low chairs. For a more bar-like atmosphere, create a bar counter along the edge of the peninsula and use bar stools for seating.
Granite kitchen bar
If you like its look, granite is a beautiful option for countertops. If you have a breakfast nook in your kitchen, you could also use it. Your kitchen will have an appealing and unified appearance thanks to this design.
Granite counters can be pricey, which is a disadvantage to this concept. This notion may be out of reach for those on a tight budget. While you may have to give up on your dream of working with granite, that does not mean you have to. Your kitchen counters should feature a less expensive material, and your kitchen bar should remain granite. Granite takes center stage in your kitchen, giving it a more luxurious appearance and feel.
Conclusion
Adding a bar to your kitchen will help set it apart from the rest of your house. Also, because it's so versatile, you may customize and style it to suit your specific needs in any kitchen. A kitchen bar's additional work area and cabinet storage are a bonus.