We use the pantry on a regular basis. This area doesn't have to be a pitch-black cave, thanks to the convenience of LED lighting.
Fortunately, some good kitchen pantry lighting ideas do not need you to be an electrician.
Which Pantry Light Is Best?
A pantry has great lighting options: ceiling lights, LED light strips, wireless or battery-operated LED lights, and an automatic door switch light.
Battery-Powered LED Lights
The addition of lights powered by batteries is a simple process. And it can survive for up to 100 hours with a motion sensor attached.
You can also use a rechargeable wireless light if you don't want to always have batteries in your house.
Motion Sensor Lights
A walk-in pantry benefits most from a high-intensity motion sensor ceiling light. It has the best surface area and offers even illumination.
Motion-sensor ceiling lights are an easy and affordable method to add light to areas of your home that you do not use often. These battery-operated, circular lights are exceedingly simple to mount. After thirty seconds of inactivity, the light will automatically switch off.
Automatic Pantry Door Switch
An automatic door switch can turn on the light in your pantry if you're a little more tech-savvy. This is the most common type of switch, known as the "normally ON" switch when it comes to new residences.
The automatic door switch is put in the door jamb and wired to an overhead light fixture already in place.
The light automatically switches on and off when you open and close the door.
LED Tape Light
LED tape light is an easy-to-install lighting option that's perfect for pantries. When you place this light within a tiny pantry, it allows you to see all of the food easily. This will save you time digging through the back behind the soup cans to find that one can of tuna.
Fancy Fixtures
A little glamor may go a long way when it comes to pantries. Modern light fixtures like pendants or chandelier lights are ideal for dressing up a walk-in pantry if you're fortunate enough to have one. If you have a place for a chandelier, you probably have room for accent lighting as well. If your pantry only has a chandelier for light, you might want to add a few recessed lights to make it brighter.
Track Lighting
Track lighting is a fashionable and adaptable alternative for those of you with pantries and walk-in closets that are a little larger. It's practical, and its spotlighting effect provides a dramatic flair to your home, like your unique handbag and shoe collection, which will be highlighted. If the arrangement of your closet changes over time, you can move the light along its track to get it where you want it.
How to Light Up a Dark Pantry?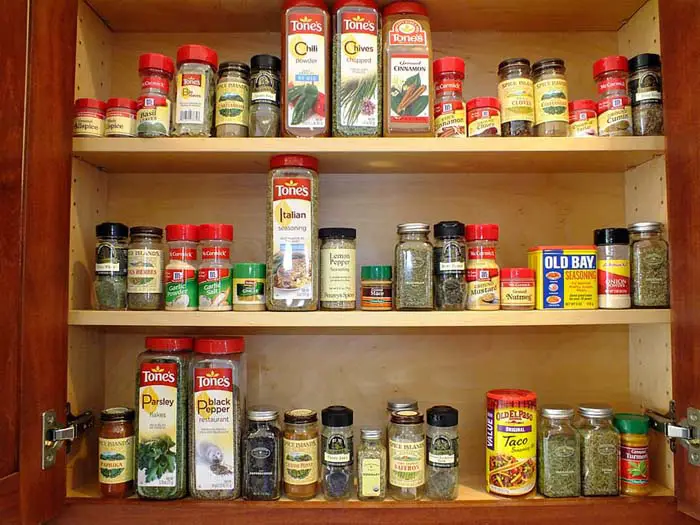 There are many ways to light up a dark pantry, such as hardwiring in a fixture, using a wall outlet plug-in light, or using battery-powered lights. You can mount these on the walls, shelves, cabinets, or ceiling.
A pantry isn't the same as another. Every lighting application is different, too. However, there are a few options for illuminating a dim pantry.
Puck Lights
Automatic Door Switch
LED Light Strips
Ceiling Light Fixtures
Lighting a Pantry without an Outlet?
A battery-or wireless-powered LED light fixture is the best solution to light a pantry without an outlet.
Puck lights, light strips, surface-mounted ceiling lights, or linear light bars are all battery-powered lights.
Stocking up on batteries is a good idea if you frequently use your pantry. But this will depend on how frequently you use them. Most batteries can last anywhere from 25 to 100 hours.
How Do You Install a Pantry Light?
It's important to know the size of your pantry before you can install a light fixture in it. For instance, knowing this will help you choose the right kind of light fixtures for your room.
Ceiling lights are great for LED strips, puck lights, or linear light sticks.
Determine whether or not you want to use a wireless or hardwired light fixture.
Check to see whether you have access to a power source other than a battery-operated light.
Recognize the proper number of lighting fixtures necessary to illuminate the pantry adequately.
Be aware of the pantry's dimensions or square footage before organizing it.
Pantry Light Sensor Ideas
In order to turn on your lights, you can use a pantry light sensor.
Track Lighting
As with directional spotlights that aim towards your pantry's cabinetry and open shelves, you can use most track lights to highlight your storage areas. In addition, you can position them so that they provide the right amount of light.
Motion Activated Light Sensor
It's OK to use battery-powered fixtures. They are a simple, low-maintenance lighting option for your pantry and kitchen, provided you don't mind changing out the batteries on a regular basis. Then again, they're not for everyone, either.
Surface Mounted Ceiling Lighting
Various types of surface-mounted pantry lights are available. There is a lot to consider when it comes to the look of the kitchen.
Alternatively, you can use a fixture that extends your kitchen's lighting into the pantry with a ten-inch diameter flush-mounted ceiling light. You may also want to use this method if you have a butler's pantry.
Recessed Ceiling Lighting
Walk-in pantries of all shapes and sizes can benefit from recessed lighting's contemporary look.
If you space the lights well throughout your pantry, they can offer the best source of overhead illumination.
Walk-In Pantry Lighting Ideas
Walk-in pantries necessitate ample lighting to make the most of their available space. Not only do we spend a lot of time in the kitchen, but we also spend time in the pantry.
There are several tested pantry lighting ideas to think about and some non-traditional methods.
Lighting for Under Shelves
You can use a combination of under-shelf lighting and ceiling lighting to light up the pantry area.
Adhesive-backed LED light strips provide the appropriate amount of lighting for areas where an overhead light fixture produces shadows.
Directional Spot Lights
It is possible to use spotlights as a supplement and as the primary illumination source. A walk-in pantry with high ceilings can benefit from directional lighting. On the other hand, these ceiling lights give the room a warmer and more welcoming feel.
Door Activated Light Sensor
A door-activated light sensor will work if you have a framed door to your pantry. You can find "normally ON" switches in the door jamb and switch them on when the door is opened and off as soon as it is shut.
Conclusion
As with most lighting applications, you can go as extensive as you want. Keep in mind that the amount of space in your pantry has a significant bearing on your ability to prepare healthy meals. You want to ensure that the entire space is well-lit in terms of lighting. LED lights are easy to install and can be used in almost any pantry, so have fun!