As a homeowner, maintaining and cleaning your cutlery is essential. Keeping your kitchen neat and clean is a basic requirement.
Besides, you have to boost the longevity of your kitchen cutlery by taking good care of them.
Nonetheless, note that different types of cutlery incorporate different cleaning and maintenance techniques. It all depends on the material of the cutlery.
Let's take a look at how to clean and maintain some of the different types of cutlery.
Cleaning and maintaining stainless steel cutlery
More than 95% of homeowners have stainless steel cutlery. This cutlery is of good quality and offers value for money, as long as you get genuine stainless steel.
But first, it is essential to take note of the different components that make up stainless steel. Stainless steel cutlery contains nickel and chromium.
These components are less likely to get stains. But if you mishandle them, they can get stains.
How do you clean stainless steel cutlery?
Below are a few techniques that can help you maintain your stainless-steel cutlery.
Immediate wash and rinse
After using your stainless steel cutlery, wash or rinse immediately.
You can simply do this by pouring lukewarm water over the cutlery. Then, scrub all the areas that contain stuck food particles.
You have to rinse your stainless steel cutlery immediately after use. Otherwise, the cutlery would get stains.
Here's the thing. When acidic foods and salt stay on your stainless cutlery for a long time, they are likely to cause stains or corrosion.
Purchase the right stainless steel cutlery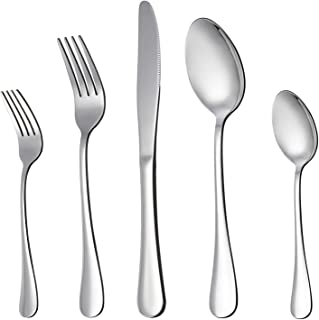 Before purchasing stainless steel knives, ask your manufacturer for the best option.
Often, it is advisable to purchase the one that has a larger percentage of chromium. But you have to keep in mind that such knives are more vulnerable to stains. So, take care of them carefully.
Avoid soaking for long
The worst thing you can do with stainless steel is to soak them in water for a long time. Doing this makes your cutlery stain in the end.
Also, always wipe stainless steel cutlery thoroughly before storing them.
Handling stainless steel stains
Once you notice any stains on your stainless steel cutlery, check the manufacturer's instructions on how to handle the stain.
Alternatively, you can contact the manufacturer directly.
Silver cutlery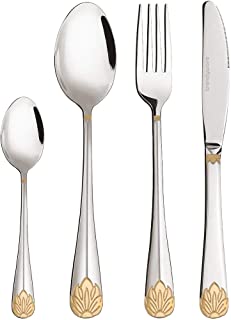 Maintaining silver cutlery
Silver cutlery is popularly known for its distinctive aesthetics and functionality. Besides, this type of cutlery offers high durability.
In fact, experts say that silver cutlery is often passed from one generation to the next. Even so, you have to take care of silver cutlery to ensure it offers a lifetime warranty.
Below are tips on maintenance of silver cutlery: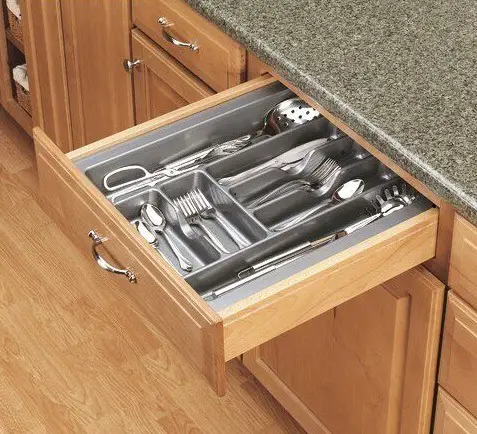 Find a suitable storage space for your silver cutlery. Do not place them next to stainless steel since they can rub against each other and cause corrosion.
Note that this does not apply to the storage place only. It also applies to all other places in the kitchen.
Avoid placing your silver cutlery beside your stainless steel cutlery.
Silverware in dishwashers?
Fortunately, you can use a dishwasher to clean your silver cutlery. But while doing this, keep monitoring the silver cutlery.
Additionally, use a clean fiber cloth to dry the silver cutlery before storage.
Leaving the silver cutlery with any form of dampness can lead to staining.
Silver cutlery and acidic foods
Several foods, especially acidic foods, can lead to staining in your silver cutlery.
So, always rinse off the silver cutlery immediately after use.
These are not the utensils you can leave lying around your sink for the whole day.
Shining silverware
Maintaining silver cutlery also requires you to use certain sheen agents that maintain the lustrous nature.
Consult your manufacturer on the best product to use.
How do you clean silver cutlery? 
If you desire to boost your silver cutlery's durability, there are several techniques to incorporate when cleaning silver cutlery.
Homeowners need to rinse and wash silver cutlery immediately after use. Failure to do so would lead to corrosion.
Do not mix your silver cutlery with other utensils during cleaning. In particular, separate your stainless steel cutlery from your silver cutlery. This way, your silver cutlery will last for long without getting any stains.
Use the appropriate polish material when wiping your silver cutlery. It would be best if you consult your manufacturer before purchasing any silver polish chemical. Also, polish the silver cutlery appropriately. Otherwise, you would damage it.
In general, how do I clean and maintain my entire cutlery?
Regardless of the material of the cutlery, please do not leave them dirty for a long time. Foods like salt and vinegar tend to erode almost all types of cutlery.
Invest sometime in reading the many resources out there on how to restore your cutlery and how to make your cutlery shine.
This applies to soft drinks too. Do not leave any soft drink remains in your cutlery.
Getting rid of food particles on cutlery
Occasionally, food particles tend to stick on the cutlery and require a gentle scrub.
It would help if you first soak the cutlery for approximately 30 minutes in warm soapy water whenever you notice this.
From there, you can proceed with normal washing of the cutlery.
Washing cutlery in the dishwasher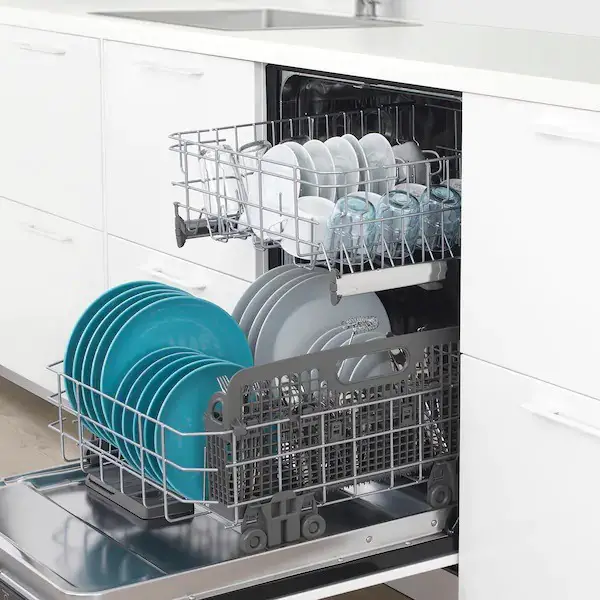 After getting rid of the stuck particles, place the cutlery in the dishwasher.
Make sure to use the most suitable soap to wash the cutlery. The dishwashing detergent should not be too harsh to cause corrosion.
Additionally, keep monitoring the cutlery while in the dishwasher. If you notice that the appliance is running out of soap, add more.
Ensure that the cutlery comes out of the dishwasher, clean and fresh. Then, use cold water to rinse the cutlery.
Before you proceed to the next step, check to see whether the cutlery contains any detergent.
Polishing cutlery
Once you ensure that the cutlery is free from detergent, use the most suitable polish product to boost the sheen of your silver cutlery.
Not to worry, most polishing agents will dry the cutlery for you. Using polish agents will give your cutlery a brand new look.
In case you don't have a polishing agent, soak the silver cutlery in warm water containing a certain percentage of vinegar.
Afterward, use paper to dry them.
How best to store cutlery
Before storing your silver cutlery, check whether they contain any traces of moisture. Afterward, you can proceed with storage.
Avoid storing the silver cutlery in damp places. Here, they can get contaminated with microbes and pose a danger to your health.
It would be best if you used dividers when storing your cutlery. This way, each unit can stay in its slot. As a result, they won't rub against each other.
Ultimately…
Every homeowner needs to take good care of their cutlery. The best way to do this would be to use the appropriate cleaning and maintenance of cutlery techniques.