It can be quite boring cooking three dishes daily, particularly if you do not have the right appliances to make your cooking easy. You should get cooking appliances that cook tasty meals, save time and are save energy.
This will allow you to have delicious and healthy meals for your loved ones. Most important, you'll have time to do other chores.
One of the most important kitchen appliances that you can invest in that will definitely improve your kitchen experience and lighten your kitchen tasks is a pressure cooker.
In this article which is part of a series of articles we have done on pressure cookers, we will compare Fissler Pressure Cookers to Nesco Pressure Cookers to give you a feel of what each cooker offers you.
Comparison Table of Fissler and Nesco Pressure Cookers

 
Item
Fissler Pressure Cooker
Nesco Pressure Cooker
1.
Outer Material / Colour
Stainless steel/silver
Stainless steel/black, aluminum, plastic
2.
Available Sizes
2.6 Quart, 3.7 Quart, 4.8 Quart, 6.4 Quart, 8.5 Quart, 10.6 Quart
6 Quart, 8 Quart, 11 Quart
3.
Energy Consumption/ Saving
Save up to 50% energy
Save up to 50% energy
4.
Type of lid (Glass or not)
Stainless steel lid
Stainless steel
5.
Temperature Controls
None
Yes
6.
Pricing
Prices range from $190 -$349 depending on the model
Prices range from $168 -$384 depending on the model
7.
No. of Programmes e.g. 7 in 1; Pressure cooker, slow cooker, yoghurt maker, rice cooker etc
2 settings: Setting I is a soft setting with a moderate temperature that's appropriate for delicate items such as veggies or fish. Setting 2 is for stews and meat dishes and cooks at a higher temperature.
2 pressure settings: 5psi for low pressure cooking (for custards, vegetables, etc.) and 10psi for high pressure cooking (for roast etc.).
8.
Pressure Regulator & Noise Levels
Has a pressure regulator

Regulates temperature automatically.

There are two methods for releasing pressure: natural release, after the cooking is finished, it might take 10-20 minutes to cool down. You can also use the manual release by turning the knob and letting the steam escape quickly.
9.
Speed of cooking
It saves up to 70% of conventional cooking time.
Cooking time is reduced by about 70%.
10.
Warranty
Limited lifetime warranty on all individual parts (exclusive of parts that are prone to wear, like the silicone membranes, O-rings, rubber gasket, and valve base seals)
One-year limited warranty.

The warranty doesn't cover accident, misuse, transportation damage or similar occurrence.

11.
Availability in Stores / Amazon (where to buy)
Readily available in Amazon, eBay, Walmart, and on the Fissler online stores
Available at Nesco stores. At the time of posting this article  Amazon recommends visiting Nesco stores to acquire the item. Also available on Walmart, eBay, and more
12.
Other differences
Fruits and veggies fish are cooked at the lower Setting 1.

Higher setting 2 for soups, potatoes, meat, and similar recipes

Easy to remove handle

Cook nearly everything from tasty homemade chili, stews and soups to veggies, chicken and fish.

Stay-cool handles

Plastic handle
Is investing in a Fissler pressure cooker worth it?
No products found.
Stay healthy by cooking delicious meals fast with a Fissler pressure cooker. Nowadays, homes are more aware of their choices and needs of appliances.
Brands are designing more and more easy-to-use kitchen appliances, and they are getting more advanced yet more user friendly day by day.
A Fissler pressure cooker is one of the most popular appliances globally. These pressure cookers are engineered in Germany. They are popular for their efficiency, durability, and quality.
In addition, they are great to own, thanks to their durable external shells, ergonomic grips, and sleek designs.
And if you are worried that a cooker is only great to make this summer season's favorite, vegetarian chili, rest assured there are recipes for every dish from bread to roasted pumpkin and even steamed fish. So, consider buying a Fissler pressure cooker.
The cooker is a bit expensive compared to other brands; however, it will last for years. If you buy a pressure cooker that has a glass lid, a model like this will do double duty as a top-quality saucepan or stainless steel skillet.
Fissler comes with heavy stainless steel construction. This material makes it the best option for searing and sautéing dishes before you pressure cook.
In addition, there's a unique choice to select high or gentle-pressure settings. The gentle setting is best for cooking grains, reheating dishes, and steaming veggies.
A Fissler pressure cooker is one of the most stunningly made model on the market. If you can get it, it will be one of the best investments ever.
Why having the best Fissler pressure cooker is a must?
Fissler is one of the best pressure cookers in the market today and one that you are likely to use for daily cooking and for a long time to come due to its durability. Also, it will you cook food fast thus saving you time.
Energy saver
Pressure cooking will help in saving energy since what is used here is trapped streams. Here it won't escape out of the pressure cooker, which helps you save energy and time.
User-friendly
For those who are always busy, this kitchen appliance is user-friendly. Simply set the button and wait for it to get the job done.
Eating healthy food
If you're using this kitchen appliance frequently, healthier food is your everyday choice. Normally, high heat used in cooking food makes the dishes lose the right vitamins and nutrients.
When using this cooker, it will retain enough minerals and vitamins so that you can have quality dishes every day.
Cook food faster
You won't like spending hours in your kitchen or engaging in day-long cooking, right? A cooker will help save nearly two-thirds of your time in the kitchen by cooking food fast. It is worth noting that preparing dried dishes on this pressure cooker takes about 60 minutes to cook. Normally, it will take 2/3 of the time it takes with other models.
Nesco pressure cooker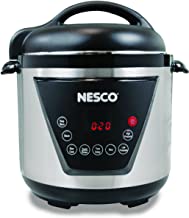 This high-quality pressure cooker turns basic spices and ingredients into mouthwatering food for your loved ones.
Cooking food is easy and fast with the Nesco. In addition, it is easy to cook and clean the pressure cooker. This will let you enjoy free time to do other chores.
On the high setting, this cooker can cook food at a full ten pounds of pressure. Most electric cookers do not pressurize that much and cannot match Nesco's effectiveness. Nesco pressure cookers cook very fast so that you will have more time for other chores.
Convenient sizes
Though they are available in a four-liter capacity, the six-liter pressure cookers are big enough for a whole family dinner, yet still small-sized for easy portability. All models are user-friendly and a breeze to clean, providing you with more time to do other tasks.
User-friendly safe
With the user-friendly digital timer on the Nesco cooker, you can just set it and forget, knowing that you will not over or undercook the food. The food cooks to perfection each time.
Unlike other pressure cookers on the market, you have the flexibility to use either the choice to program the timer manually or use the fast timer presets.
As a result, you won't get stuck having to use just pre-programmed settings. This provides you with the freedom to set it depending on your preferences.
The LED lights are easy to read, which allows you to immediately know how much time is left for cooking, so you are not wondering when the dishes will be done.
It will let you easily time other side dishes with the rest food and easily time your food around the schedule of your loved ones.
The soft-touch buttons on the Nesco provide the cooker with a comfortable, quality, and stylish feel.
This cooker provides the flexibility of two pressure settings, high pressure for cooking denser food such as veggies and meat and low pressure for cooking less dense food, such as fruits. Whether it is deserts or the main dish, you and your loved ones will enjoy tasty food.
Easy to clean
A nonstick, detachable cooking pot insert will help with the even distribution of heat during cooking. For cleaning, remove it from the base.
It features an easy-to-wash nonstick coating that you can wash in the dishwasher or manually. This means that post-meal cleaning is easy, reducing cleaning time. It is simple to wipe and rinse so that you will have more time for other important tasks.
Saves time
You can use this pressure cooker's programmable digital timer to accurately time your food to precise times. You can automatically set it to ensure the food stays warm after you cook or switch off.
In addition, you can set the cooker to delay cooking for up to 8 hours. By doing this, you will be able to toss some ingredients together the following day, and it will get cooked and ready when you reach home later. It is easy to program this cooker and still have time to go away.
You will spend less effort and time cooking your food. Preparation is shorter and simpler, and cooking time is three to ten times quicker than traditional cooking.
Also, it is easy to clean the cooker, so you will spend less effort and time cleaning up. This will help you make more time available for yourself. It is good if you are a busy person.
Conclusion
Each of the two pressure cookers offers various advantages, besides the usual advantages that pressure cookers generally offer. Use the information above, as easily summarized in the comparison table to help you choose.