For all the barbecue fans out there, gas grills are one of the options you are likely to consider when looking for a grill.
Gas grills bring various advantages, including the fact that they are cleaner to deal with compared to charcoal grills and if well maintained, they do not smoke much.
There are various beliefs out there regarding gas grills, including the fact that they do not produce the best tasking meats compared to say, charcoal grills.
If you are in the process of choosing the right grill for your needs or a gas grill, we recommend that you read a product review of gas grills to help you make an informed decision.
This article is a positive mishmash of all things related to gas grills, ranging from factors to consider when purchasing a gas grill, some information on select models of gas grills to looking at different number of burners to suit different family needs.
What should you look for when buying a propane gas grill?
Rather than turning on the stove, invest in a propane gas grill. On a beautiful summer afternoon, grilling for your friends and family is a terrific way to combine social activity with dinner preparation.
While you speak with your friends and enjoy the weather, stand around the grill, stirring the burgers and sausage. Grilling offers you a perfect mix of some good conversation and food; you can have both with grilling, it is not either-or.
This type of grill makes it a quick and convenient way to cook a variety of meat cuts. There's a lot you can do with a propane model, from char-broiling chicken to searing steaks. Use your grill to create spectacular meals in your backyard during the hot months.
Start by purchasing a unit that meets your needs for outside cooking and start cooking delicious food in your outdoor space. What should you consider when purchasing a gas grill? Look for these features in your propane gas grill, from design to materials, to see if it's a good buy:
Gas Valve
Make sure the manufacturer provides spares. The last thing you want is a faulty valve to damage the grill.
Burners
Important things to consider in your propane gas grill are the number of burners, as well as their output. If you are always grilling for large groups, you will need more burners with more gas output. Look for stainless-steel burners that have been ceramic-coated. These types distribute heat evenly throughout the entire cooking area.
Heat Shield
Also called a "heat tent," it prevents heat loss from the grill and maintains a constant ambient heat around the cooking surface for quick grilling.
In addition, the shield helps to keep the immediate area from overheating. The majority of shields use insulating materials to help keep the lid cool to the touch.
Cooking Grate
Look for grills with a genuine stainless steel finish or ceramic-coated stainless steel. If you are using stainless steel, be sure it's at least grade 304. Do not use mild steel grids since they rust and wear out over time.
Material
The grill's material is important. Look for models that feature a powder-coated aluminum finish or stainless steel. These materials are ideal for outdoor use. They are rust-resistant, weather-resistant, and non-toxic.
How many grill burners do you need?
The most common number of grill burners are two, three, four and six. The number of burners most people end with is mostly determined by family size and mostly the how big a group they often grill for. The larger the group, the more the number of burners you are likely to go for.
Also, the number of different food options that you like to prepare. If you only grill meat and vegetables, then maybe a 2 burner is more than enough.
2-burner gas grill
A gas grill with two burners is known as a "2 burner gas grill." But as you might expect, it's a bit more complicated. Adding an extra burner to a regular gas grill won't make it the product you're looking for.
You'll need the best 2-burner gas grill to cook in the comfort of your own home with maximum convenience and ease. This grill is versatile, and you can use it almost anywhere.
When purchasing a 2-burner model, you should consider a few things. Make sure you confirm the item's efficiency, size, and cooking space, as well as any additional space.
The main advantage of a 2-burner gas grill is that it provides lots of beef grilling space. It can also heat up quickly, allowing you to start grilling the meat immediately.
Furthermore, the temperature is much easier to adjust, and some even allow you to prepare meat at two different temperatures at the same time. Generally, they are a more durable and adaptable version of the traditional gas model.
The advantages of owning a 3-burner gas grill
So, what makes this type superior to other options? There are numerous benefits to owning this unit, which include excellent choices for affordability, durable design, and performance.
Economical
The use of gas rather than charcoal is one of the other major benefits of the 3-burner model. Gas is far less expensive than charcoal, so you will save plenty of money when refueling. It also makes cleaning the heaters a lot easier, and it offers you a lot more freedom with the temperature adjustments.
Durable
A 3-burner gas grill is built to last and is ideal for outdoor use. Most have stainless steel burners, which are sturdy and high-quality materials. Their simple layout makes these grills simple to use and store. For this reason, once you've purchased the model you want, you'll be able to use it for years to come.
Effectiveness
You may save a lot of time by obtaining this type of grill. This is a great standard option because it allows you to multitask and cook for a large crowd at the same time without taking up a lot of space.
Four burner grills can be cumbersome, and they aren't always essential. With a 3-burner gas grill, you can do a lot while saving space and time.
 4-burner gas grills
Suppose you're fed up with purchasing different gadgets to fulfill different culinary demands and want something easier and more versatile. In that case, you should invest in the best 4-burner gas grill on the market.
You can use a 3-burner gas model as an all-in-one cooking solution to fulfill a variety of grilling needs. Most of these models also include gas tank cabinets, tool racks, and side shelves.
These models are very portable, and you can move them easily from your outdoor space to the kitchen to meet all of your requirements.
How to select the best 4 burner gas grill?
Keep the following considerations in mind when purchasing a 4-burner gas grill.
Aesthetics:
There are plenty of classy grills out there. A well-designed unit can improve your kitchen's look while also fulfilling its purpose.
Extra features:
This grill has a control panel, electronic ignition, rotisseries, ceramic plate setter, V-racks, storage racks, side burner, grill cover, LED lighting, hot zone, drip tray, digital meat probe, a cleaning brush, prop shelves, and an integrated thermometer, among other features.
Size:
The 4-burner model is available in a variety of sizes. Look at the primary and secondary cooking space measurements. Check to see if the grill has extra storage racks and shelves.
Gas:
Unlike propane tanks, which require maintenance and should be replaced when they run out, natural gas provides a steady supply of gas. Furthermore, propane models are lightweight and cost-effective. It's also suitable for use as an outdoor gas grill.
6-burner gas grill
Assume you've invited a huge crowd for an evening backyard party, and you've carefully crafted a menu that includes a long list of grilled dishes appropriate for the occasion.
You begin cooking but quickly discover that even a single batch of food takes ages to cook on your small grill. A 6-burner gas grill could come in handy in this situation.
A 6-burner gas grill offers more space and other features that will help you cook meals quickly when there is lots of food to prepare, or you're in a rush.
This model will significantly speed up the cooking process and is far more powerful than a small unit.
For optimum use of this large gas grill, you should only purchase one if your needs require 6 burners.
If the number of burners far outweigh your daily needs, you might end up feeling that this appliance is a waste of your money and space. However, if it fits your demands, go for it. It will save you time and give you added efficiency.
Advantages of purchasing and using a small gas grill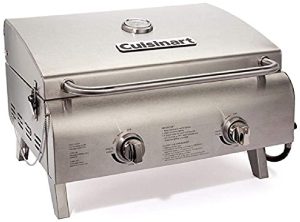 It offers the perfect cooking temperature
A small grill's temperature will remain constant, and the heat will be consistent, making food preparation easier. However, a charcoal model will take longer to heat up and cause temperature fluctuations. You'll have to keep an eye on the charcoal all the while. You will also have to fan the hot coals to keep them from cooling.
Cooking is simple with a small grill, and there's no need to worry. The reason is that the heat created by the grill does not easily cool and harden due to the even temperature distribution.
Not as messy as charcoal models
You have the option of purchasing a portable gas grill or a portable charcoal grill. If you use a small gas grill, you won't have to lug around charcoal briquettes and lighter fluids. All you'll require is a comfortable-sized disposable propane tank.
Easy to clean
It's just as simple to clean as it is to prepare food. There's also the bonus of not having to clean burned charcoal briquettes or deal with ashes.
All you have to do now is separate the propane tank from the grill, clean the grates, and look for a safe place to store them. Proper cleaning of grills will ensure they last long and serve you well.
Perfect small apartments and houses
Grills can be large and need plenty of space, primarily in your outdoor space. Yet, many households are unlikely to have such a space. On the other hand, a small gas grill is small, and you can carry it in a regular bag.
People who reside in apartments may yearn for a grilling experience. However, first, they must inquire with the relevant authorities to ensure that they are grilling in the proper location.
Tabletop gas grill
Are you looking for a nice tabletop gas grill? Choosing the right model for your needs can be challenging, with many options available. While a tabletop model is often less expensive than a freestanding one, you should still carefully consider your purchase.
You will have a lot of seasons of trouble-free grilling by taking the time to buy the correct model. This depends on whether you use it to grill at your favorite picnic spot, while camping, in your house or even on a boat.
A tabletop gas grill is ideal for people who have limited cooking space, such as a balcony or patio. In addition, if you cook for one or two people and do not want a big unit, a tabletop model should be your best friend.
A tabletop gas grill is also a terrific companion for individuals who spend a lot of time hunting, camping, or doing other outdoor activities. These are all excellent reasons to invest in a tabletop model.
Everyone wants to purchase one of the best tabletop models. But with lots of options available, finding one that fits your budget and meets your needs can be difficult.
Griddle for gas grill
Griddles are useful cooking utensils that are frequently overlooked. Most people overlook their value when grilling, but they are excellent additions that fry and warm your fries right on the gas grill. Buying the best griddle for a gas grill might be a monumental endeavor. This is because of the numerous shapes and styles available.
Buyer guide for Griddle for Gas Grill
Material Longevity
Griddles feature a variety of materials, including aluminum, cast iron, and steel. Steel pans are long-lasting, but they are also the more costly.
Size and fit
Griddles come in a variety of sizes. It is best to get one that is the proper size for the surface of your grill. If the grates are small, go for the small round griddles.
Space
When looking for the best griddles for gas grill, the first thing to consider is the available space. Griddles come in a variety of sizes, and the amount of food you wish to cook will depend on the size of the griddle.
Why buy a gas and charcoal grill?
Because the production expenses for these grills are relatively high, they are a little more costly to buy than single-purpose units.
These units are exactly what they sound like: they combine the convenience of gas lighting with the true aromas and flavors of charcoal. Additionally, having both does not obstruct your cooking area. You get the best of both worlds with a gas and charcoal grill.
Whereas some people buy a charcoal grill and a gas unit to go with it, combo grills eliminate the waste of money and space this creates by combining everything into one.
You can cook more stuff on the grill
A gas and charcoal grill is often large, with some of the models having two separate cooking areas. This lets you prepare larger quantities of food in a shorter amount of time.
Saves a lot of space
Grilling and cooking appliances are enjoyable to use, but they soon accumulate and take over your patio and kitchen. The resulting clutter is not only inconvenient, but it can also cause needless stress. Investing in a gas and charcoal grill is a terrific way to be focused, time-efficient, and organized.
These grills are more than just a gimmick; they're a terrific way of keeping everything contained in one modern appliance.
Considerations when buying a Char Broil Gas Grill
This is an excellent choice for those with a small budget but still want a spacious and powerful grill. Because they are inexpensive, their models often don't have many interesting features, aside from the basics.
Lowes gas grill models are typically high-tech, with cast iron or heavy-duty steel construction. In addition, they have been in the industry for several years. They have had plenty of time to tweak and adapt the grill' performance to meet consumer demands.
BTU
The term BTU (British Thermal Unit) refers to the amount of heat and gas output that a grill can produce. However, it isn't a particularly efficient measurement. Instead, search for a unit with a wide temperature range. Higher-end models may incorporate infrared burners that can reach 700 degrees or more.
Size
A 2-burner grill gives you more temperature control and flexibility. The surface area measured in square inches would be the most important factor to consider when determining size. Many people can use a 450-500-square-inch model to cook roughly 24 hamburgers at once.
Features
Choose a Char-Broil gas grill with an automated starter and a removable upper cooking skillet (ideal for huge beef cuts, veggies, and buns) for indirect cooking.
A propane gauge is quite useful. In addition, a side burner is useful, but it is frequently misused. Wireless temperature monitors and built-in LED lights are among the premium features.
Weber gas grill
A Weber gas grill can be a valuable way of making some truly exceptional food through the grilling process. This lets you actualize that desire to make every meal you grill a captivating experience rather than a money and time drainer.
Weber is a dependable grill maker who has been making better grills for decades.
A gas grill can also be simple to maintain, making any event leading to meals on the grill simple. You will be able to put together the ingredients for a meaningful meal thanks to a Weber natural gas grill.
Kenmore gas grill
This gas grill is popular for a variety of reasons. This brand is affordable, aesthetically appealing, and feature-rich.
These grills usually come with a good warranty in case you have any problems. Because the Kenmore firm offers vast industry knowledge and decades of experience, you can rest assured that you will receive a high-quality gas grill.
Kenmore gas grills have also received numerous awards over the years. Kenmore gas grill models are available in a variety of sizes and styles.
Coleman gas grill
Do you have plans for a fun road trip with family and friends? Obviously, no trip will be truly unforgettable unless you can share wonderful meals with your loved ones. This will be especially straightforward if you bring a Coleman gas grill with you on the trip.
Make sure you know exactly what you're getting when you're buying it. You can do any type of cooking or grilling outside of a tailgate grill. It is important to be aware of the number of people present in your area.
There are some safety precautions to take into account. Make sure you read the instructions before beginning to use the grill.
These easy-to-collapse and travel grills offer great convenience and functionality, and they're backed by a reputable brand that's been around for a long time.
Smoker box for gas grill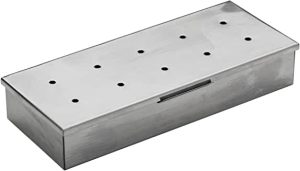 Do you want to make a smoker out of your gas grill? To do so, you'll need to get a smoker box for gas grill.
Everyone appreciates the benefits of propane and gas grills. Just turn a knob, press a button, and the grill is ready to cook. Propane grills are safer than charcoal models, cleaner, and more user-friendly.
Gas and propane grills are convenient and user-friendly. Nevertheless, one notable downside of gas models is that they lack the smokey wood taste that pellet and charcoal models produce. There's, however, a solution. All you'll need is a smoker box for gas grill.
The following is a broad outline of how to use a smoker box for gas grill:
Put the smoke box on your grill and heat it alongside the grill.
Using kitchen tongs, slowly turn, remove, or turn the lid away from the box.
Fill the box with wood chips. As indicated in the product reviews, depending on the model of the smoker box and your preferences, these may or may not be wet (though it is advisable not to soak them at all).
Close the grill's cover to start the wood chip heating process.
Wait a couple of minutes for the temperature inside to rise and evident signs of smoke to appear before reopening your grill.
When the first smoke sign appears, open your grill and place any food or meat you want to smoke on the grill.
Replace the lid on the grill and cook, as usual, anticipating the change as the smokey flavor develops.
After that, you are ready to enjoy a delicious BBQ feast.