Linoleum is a resilient sheet flooring that can withstand difficult conditions. It's created with linseed oil and other natural materials like rock dust and wood flour.
Linoleum is especially appealing to homeowners who love to use natural eco-friendly materials.
This is a resilient material like vinyl that's soft under one's feet, particularly when you pair it with the best foam underlay.
But, this material is a bit less impervious to stains and water in contrast to vinyl flooring. For this reason, it is best to apply a sealer occasionally to its water-resistant surface.
The flooring is not only moisture-resistant and resilient, but it also has lots of colors and patterns. This means that you will get the ideal choice for the kitchen.
Advantages of Linoleum flooring
Eco-friendly
Linoleum doesn't have volatile organic compounds (VOCs), so it is non-toxic. It's biodegradable and recyclable. This makes Linoleum one of the most environmentally friendly flooring choices out there.
Water resistance
While too much moisture will damage this material, it's resistant to water under regular daily situations, not like laminate or wood flooring.
Durability
Because of the unique process of manufacturing linoleum, you can find the patterns and colors throughout the material's thickness, which makes wear less noticeable.
Slight gouges or scratches are less noticeable, and you can repair them with careful refinishing and buffing.
Comfort
Natural padding offers the best support, unlike stone or ceramic tiles, that can be hard on the joints and back.
Cleaning Linoleum floors to make them less slippery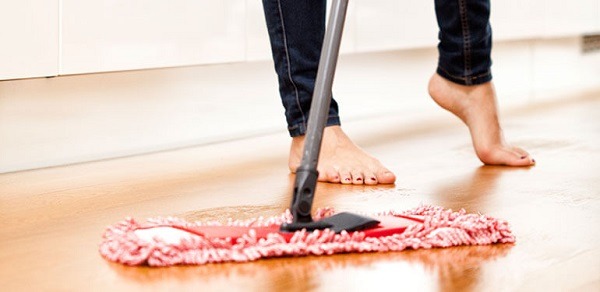 You can use a dry, microfiber mop for getting rid of debris and dirt in high traffic places every day.
Once weekly, you can use a vacuum cleaner attachment or a soft-bristled broom to get rid of debris and dirt.
You can use a solution of some drops of dish soap, a cup of vinegar, and a gallon of hot water to mop the floor.
Refill the bucket or sink with clean water after dumping out the mixture.
You can use a clean, damp mop for getting rid of any residue after mopping the floor.
Let the floor dry thoroughly before use, making sure the surface doesn't have standing water.
Deep Clean up
One or two times yearly, you should do a deep clean-up of your linoleum floor. This will get rid of build-up dirt in the surface and help in restoring the natural beauty.
The ideal way of cleaning up linoleum flooring on a yearly or half-yearly basis will involve some steps and these materials:
Soft-bristled brush
Old towels
Baking soda
Microfiber mop
Hot water
Mild dish soap
Bucket
Vacuum cleaner
Here are some step by step instructions:
Use old towels to dry the floors.
Once you finish cleaning the whole floor, use clean water to wipe again to get rid of any traces of soap and baking soda residues.
Sprinkling bicarbonate of soda on the floor.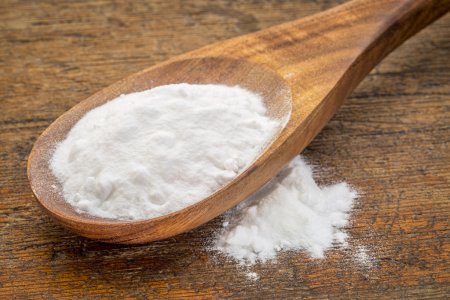 Use the mixture to wipe the whole floor; use the scrub brush to get rid of stubborn dirt.
Mix some drops of dish soap, a cup of vinegar, and a gallon with the mixture.
Vacuuming or sweeping loose debris.
With the right maintenance and care, a linoleum floor is able to withstand years of use. In addition, with the never-ending array of patterns and colors, it is ideal for each room in your house.
How do you make a slippery vinyl floor safe?
Vinyl

This is an inexpensive synthetic plastic that can be made into any color or pattern. Due to this, most homes and kitchens have vinyl flooring as it can last for years.
With time, this type of flooring has become easy to maintain and more durable. Vinyl flooring is resistant to moisture, mold, spills, and mildew, which makes it perfect for kitchens.
This flooring has a built-in pad underlay for a softer and warmer touch than ceramic tile.
Vinyl is inexpensive, plus it's easy to install this flooring without help and the expense of hiring an expert.
Over time, this material can, at times, curl, bubble, or dent. Sharp things can scratch it or tear its surface.
Though vinyl is regarded as pet and spill-proof, the more wear it experiences, the shorter its lifespan. Thicker types last for decades.
Wax, rain over-spray, dust, floor polish, talcum powder or liquid spills will cause a slippery vinyl floor.
You can keep the floor as clean as possible by sweeping the surface every day, getting rid of debris and dirt that land on the floor daily and wiping dry any liquid spills as soon as they occur.
Kinds of vinyl flooring
Vinyl tiles
This imitates the appearance of metal, marble, stone, porcelain, and slate. You can select an inlaid tile to prevent the visibility of nicks or scratches.
Vinyl planks
This imitates natural hardwood planks and is available in an array of styles, widths, and colors.
When considering this type of flooring, the choices are never-ending. Luxury vinyl tiles imitates the appearance of natural stone and real wood.
Additionally, you can find resilient sheet vinyl in woods, stones, and even more designs.
Actually, sheet vinyl will last up to two decades if you look after it well. It is also easy to maintain using simple cleaning steps.
With all the traffic going in and out of your kitchen, you require durable flooring. Not only is deluxe vinyl flooring durable, water-resistant is another advantage of vinyl. You can also get waterproof options as well.
Another plus with vinyl is that it's quite soft under one's feet. If you are spending a couple of hours on your feet in your kitchen on quite hard floors, you are able to feel it. The give in with a softer vinyl floor will make you feel well in your joints.
Additionally, it is one of the most affordable choices in the market for kitchens. Yet, in spite of all these advantages, installing the vinyl will not add to your home's resale value.
Cleaning up sheet vinyl
Similar to plants, you should keep this type of vinyl debris and dust-free. The best way of reducing tracking in debris and dirt is by putting the best quality mat in front of entryways.
This will help prevent people from carrying it in on their shoes' bottom.
When you mop, take care of the amount of water in the mop to ensure it is not excess. Just be careful at the edges where the floor and the wall meet which are capable of holding water.
This type of flooring appears new and shiny the first time you buy it. However, if you do not clean it up frequently, it will become grimy and dull, particularly if the area experiences heavy traffic.
Vacuuming or sweeping on the bare floor area prevents damage from tiny particles that scratch the vinyl planks' surface.
You can use a mild cleaner to wet mop plants; however, take care not to scrub the vinyl planks with anything abrasive. You may likely leave scratches that can dull their sparkle.
If you use liquid soap to wash the floor, ensure that you use clean plain water to do the final rinse to avoid slipperiness.
If you want to use natural cleaning products, then you can add some apple cider vinegar to your cleaning water and mop your vinyl floor.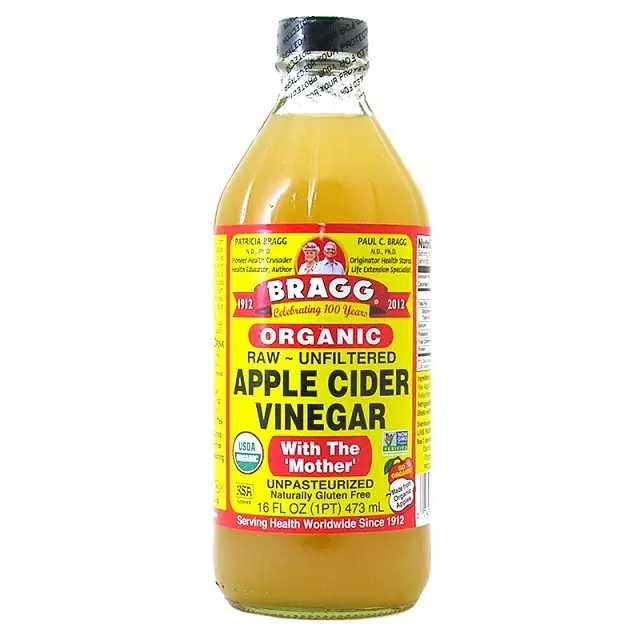 Pros:
Easy to maintain and clean
Affordable flooring
You can get an array of styles and colors
Highly water-resistant, and some choices are also waterproof
Cons:
Prone to gouges and scratches
Not environmentally friendly
Doesn't add value to a home
While vinyl plank flooring is supposed to be scratch-resistant, it is still prone to scratches over time.
It's especially susceptible to damage when you expose it to heavy or sharp items in your kitchen.
Most vinyl manufacturers are trying to make green changes; however, this will mean you should be cautious about which kind you purchase.
Vinyl flooring is usually created with chemicals, which can produce VOCs when you heat them at room temperature. So, they will emit poison into your home's air.
Additionally, if the kitchen catches fire, the vinyl can emit poisonous chemicals into your home's air.