How to Ensure your Kitchen is Well Lit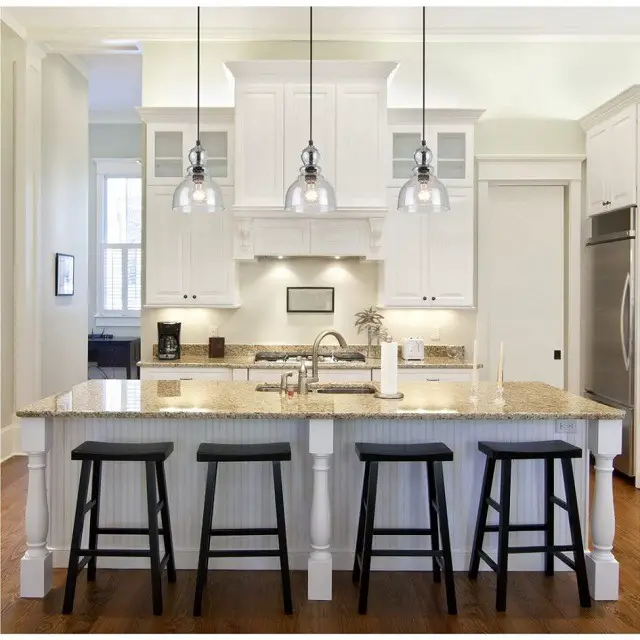 Lights play a huge role when it comes to the way the interior of your house looks.
Lighting will help make it more open, enhance specific visual spots, make it more inviting and warmer.
Light fixtures tend to serve as excellent and attractive decorative elements too.
Besides contributing to the room's overall design, which makes it more personal and transforming the way it feels, kitchen lights should be functional to start with.
Kitchen appliances and furniture layout create several hindrances, making the ordinary lighting scenario i.e. a huge light fixture in the middle of your room, inadequate.
You should deal with all the blind spots created by kitchen appliances and fittings and also address areas where you might need additional lights.
This will enable you to use and reach all corners of your kitchen with ease and do your everyday chores in comfort because you have sufficient lighting.
These helpful kitchen lighting ideas can help inspire you to consider upgrading your lighting and install the best lighting to offer an alluring effect and suit your functional needs.
Useful Lighting Tips
The size of your kitchen
The size of your kitchen will determine the number of lighting pieces and placement of lighting.
Consider your kitchen's layout and where different major items are situated; is there sufficient lighting available so you can utilize these important appliances in the right way?
You should think about the placement of task lighting as well as the spacing between ambient lighting.
Make sure you consider natural light. If you have lots of natural light entering the kitchen, your lighting needs will be different than if there's limited or no natural light.
The color of your kitchen
Your kitchen's size is an important factor in deciding on the number of lighting fixtures you'll require for enough lighting. However, the color of your kitchen is just as essential.
Dark colors will absorb the light and do not reflect it. White will help reflect light, bouncing it back into your room and brightening the space.
If your kitchen has darker colors, you will require more lighting fixtures to make sure the room offers enough light.
Set up under-cabinet lighting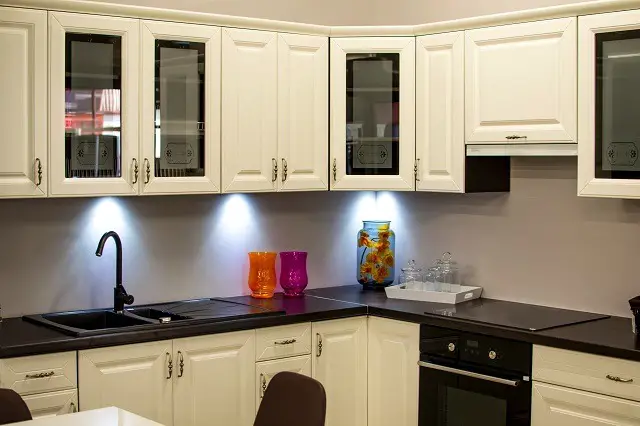 These are important lights that are beneficial while cooking and washing. Under-cabinet lights help with the chores that keep you in your kitchen the most.
Without extra spotlights beneath the overhead cabinets, your lighting needs are likely to remain unmet especially when cooking.
This is because in most cases, your body will block the ceiling fixture light, preventing the light that this central lighting fixture emits from reaching your countertop space.
Having under-cabinet lights will help light up the working space. This will help to prevent you from cutting yourself and preparing food in dim shadows.
Never depend on ceiling lights, particularly on a single central lighting
It is important that you consider overhead kitchen lights when it comes to covering the entire kitchen space. This will help create an overall lighting pattern and offer a backdrop for extra lights.
However, do not feel restricted to ceiling lights only, since it does not serve all the kitchen lighting purposes.
Do not choose one powerful ceiling light fixture either, since it can overwhelm the area and create lots of shadows and blind spots.
Task lighting
You need this light in spaces where you do specific kitchen chores. These areas are over preparation spaces, the sink, cooking surfaces and any other space where you might have appliances you use frequently, like a coffee maker.
Additionally, task lighting will help light up the shadows created by ambient lighting.
The best examples of these lights are strip lights under the overhead cabinets or pendant lighting over an island bench.
Keeping the drawers bright
It will be easier for you to find all the important items when you have brightly lit drawers. Drawers are usually used for storing smaller kitchen items, which would be hard to find if dark.
Drawers can get a bit cluttered! Nobody wants to waste much time to look for items that need to be right on top, particularly when you are in a rush.
All you need to do to solve this issue is incorporate LED tapes alongside the edges of the drawers and everything will be completely visible.
If you want to apply more advanced choices, think about incorporating motion sensors lighting that will activate the moment you open a drawer.
Installing ambient lights above the kitchen aisle
The newest home improvement trends are pendant lights. These offer a sleek stylish feel to the room while making sure there's concentrated lighting to the worktop.
They will help make the kitchen more intimate, romantic and appealing, particularly when they are the only lighting on at dinner time.
Recessed lights or down-lights should work to light the whole kitchen and not just the spaces where you do not have task lights.
You should make sure that the down-lights are uniformly spaced throughout your ceiling. By doing this, they will offer the best general lighting.
Keep in mind that you'll probably get shadows with ambient lights. To neutralize the shadows, make use of task lights.
Highlight decorative elements with accent lighting
These lights are not that popular; however, they are more common among the contemporary homeowners who like spending more time in the kitchen with family and friends.
Additionally, they highlight decorative elements such as floating shelves with glassware, a decorative China set in a cabinet with glass doors or a piece of artwork.
Combining different solutions
When thinking about installing new lights in a room, people often direct their attention to the main lamp.
This approach isn't wrong since it is an important section of the design, and it will be beneficial in helping brightening up the entire area.
However, when it comes to the kitchen, that single lamp won't be adequate for bringing the light to each corner of your kitchen and make sure that it will be comfy to operate in.
This is why it is best to incorporate a couple of smaller lamps, which focus on specific spots too. Remember to add natural lights in the project.
With the proper windows, you will not have to use artificial lights in the daytime. Natural lights make the room look good, have a way of uplifting your spirits and also help in keeping energy bills down too.
Layering the lighting
It's important to combine different levels and types of functional lights in the kitchen to get a well-lit space.
Decorative and accent fixtures, ambient lighting and task lighting can help in creating various dimensions of lighting and leave your room for multiple light choices.
Illuminating the cabinets
If you like storing lots of different items in cabinets, it might be hard keeping everything in order.
Even with the right ceiling lamps, there can be dark corners inside your cabinets, so locating the item you presently require will be hard.
Fortunately, adding LED profiles in the cupboards can help in making everything clear. By doing this, you can easily get to all the items you want to use at present and make work a lot quicker.
Additionally, you can add subtle lights along the top of the cabinets to provide your kitchen with a unique look.
Wall lights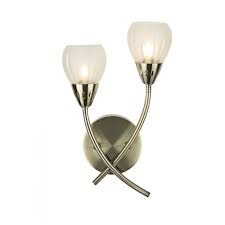 If you have low ceilings in your house or need something a little different, you should incorporate wall lights into the design of your kitchen.
Wall lighting is currently available in an array of lights. Modern wall lighting is available in various styles, colors and materials. They will be a creative addition to the kitchen area.
Additionally, you can illuminate the walls without fixing lights on them all.
Spotlighting on your kitchen floor's edge will shine superbly on to walls, reflecting the light directly back into space.
These are available in all shades, which include multi-colored, so you've got lots of choices to play around with.
Rules of lighting
Here are great light tips to help make your kitchen shine with effective, vibrant lighting:
Going off the wall: If your kitchen has lots of wall space, accent lights can come from elegant sources such as sconces.
Proper lighting: Make sure you choose the right lights depending on the counter you are covering and the size of the space. Usually, 2 or 3 pendants cover many islands; however, bigger islands need as many as 4 small lighting. For marble islands, chandeliers are the best choice to provide wowing coverage.
Look out for heights: For spacing, make sure you've got at least 30 to 32 inches of room between the lowest-hanging point of the fixtures and the counter of your island.
Keep in mind, the most appealing and effective kitchen lights design includes task lights.
These will provide you with the best lights where you require it and integrate accent lights for visual appeal, and use general lights to complete the brightness of the kitchen.
Conclusion
Your kitchen is not only a cooking space. Usually, it is where your friends and loved ones meet.
So, whether you want to create a more inviting ambience or you want better lights for the cooking chores, getting the lights right in your kitchen is important.