To have a well-organized kitchen pantry design, you must use the same organizational concepts that apply to the rest of your home. The regular tenants of kitchen pantries will depend on the organizing system you use and the extent of the area they occupy. You can design your kitchen pantry into numerous smaller compartments. You'll be able to see all of your pantry's supplies, such as flour, dishes, spices, pasta, chips, and canned goods.
It would be best not to mix soups with cereal boxes, seasonings with pasta, and so on. Separate consideration should be given to every one of these subcategories. You may try arranging the things alphabetically on the shelves, starting with appetizers and ending with veggies.
When building your pantry, these are the most important considerations to keep in mind.
The amount of available space
You don't need a lot of space to set up a pantry in your kitchen. It would be best to resize the shelves to fit together properly for this to work. Compact vintage kitchens may not have a lot of room. However, there are ways to make the most of what you have. Adding a built-in cabinet is one option.
Depending on the style of pantry you require, the amount of room available will vary. A walk-in pantry is your best bet for storing a large amount of food. Walk-in pantries, built independently of the kitchen, provide greater storage space.
What's the Best Place for a Pantry in a Kitchen?
Choosing a location for your pantry is critical, regardless of whether you're building one from scratch or remodeling an existing one. When picturing a pantry, the first thing that comes to mind is a large room filled with food. On the other hand, modern kitchens are more about personal preference.
It's good to keep a pantry next to the cooking area. If you have a baking space in the kitchen, you can also include a pantry. The odors in your pantry should be controlled if you live in a tropical climate.
Types of Kitchen Pantries
A pantry is a great way to protect your kitchen from becoming a mess. In today's houses, these are the most common styles of kitchen pantry! The pantry you choose will depend on the amount of room you have.
Wall pantry
This pantry is constructed into the wall of the kitchen. It has a ton of storage capacity and hides neatly out of sight.
Walk-in pantry
Walk-in pantries are a popular choice for homeowners to organize their kitchenware better. It's a godsend for households with large households. This design may be best if you have a designated pantry area.
Butler's pantry
There are numerous advantages to this pantry. It provides extra storage space and an increased counter area for food preparation. Previously, workstations, tableware, and cutlery were stored in the pantry on the other side of the kitchen.
Standalone pantry
This kitchen pantry design is always a fantastic option for a small room. You can use standalone designs as a piece of decor, which is a bonus. It is possible to personalize the design and color of a standalone pantry.
Slide-out pantry
This design can save you a lot of room. You can incorporate it into the design of your kitchen, and it is easy to install.
Create a Pantry Design Plan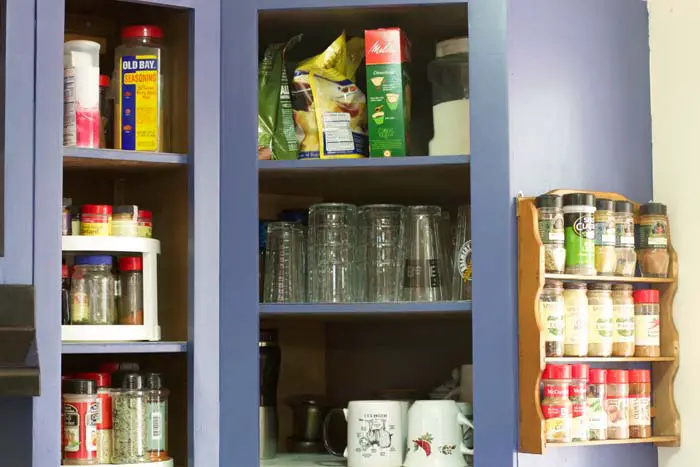 A pantry's arrangement is often disregarded. These pointers can help you make the most of your pantry's storage capacity.
When planning the layout of your kitchen pantry, think about what you need to store. The first step is to figure out what you'll be storing. You can begin planning your area as soon as you install the pantry.
Keep an eye on the depth. This might appear to be a minor issue, but the storage depth will influence whether or not it is beneficial. As a general rule, pantry shelves should have a 16–20 inch depth.
Set up distinct storage areas. Placing different objects, including seasonal ones, is best in different zones. It's still possible to organize your cupboard with color labeling.
You can add more storage to your pantry by using the back of the doors. You can take full advantage of the pantry door's space! If your kitchen is on the small side, consider installing a pocket door that slides closed when not in use. Secondary storage can also be protected from view by the door.
Organizing storage with open shelving, drawers, and cabinets
Because the kitchen is one of the busiest areas in the house, it is important to maintain it tidy.
Labeling the contents of the kitchen cabinet is one method of organization. Shelf risers can help you make the most of the available height. Adding drawers and open shelves to your pantry can make it look like it's bigger than it is.
Once you organize them, there are a wide variety of choices for storing the goods.
Stackable Bins:
Stacked bins in the pantry are an option, but only for bulky foods like dry beans or potatoes should you use them. Rummaging through the bin for potatoes is perfectly OK, but it's not appropriate if you want crackers and find a package of cake mix instead! Using the pantry's floor space with these containers makes the most of it. For vacant floor space, stackable shelf designs may be an excellent solution. You may be able to fit a small wine cellar or recycling center in the pantry's floor area if you have enough room and the right design.
Basket Drawers:
When reorganising your pantry, you will most likely look at the "slide-out" basket drawer. These storage baskets can hold a lot of stuff and save a lot of room. To provide a flat surface, the bottoms of the baskets may require the addition of a piece of plywood, cardboard, or Lucite. You can store bulky or bagged products like chips and pasta in the slide-out drawer of the refrigerator. Spices and condiments in smaller containers may be more easily accessible in shallower baskets.
Shelves and Racks:
The use of shelving in the corner is a new variation. Like the rest of the space, the corner of the closet isn't particularly helpful. This corner has a lot of room for storage and organization because of the shelving. Divide the pantry's shelf space. As a result, you'll have twice as much functional shelf room and a more manageable and useful storage area.
It's not uncommon for kitchens and laundry rooms to perform double duty as storage areas. There are a variety of approaches to handle this additional responsibility efficiently and effectively. You can mount some racks beneath a shelf, on the inside of a cabinet door, or the side walls of a pantry without taking up much space. Examine the broad range of racks on offer to see if they match your requirements.
Extra sets of stemware, china, or silverware often find a final resting place in the pantry. You can store these products in your pantry using various racks available at most retailers. In addition, the pantry may be the only place to keep cleaning supplies. Using a mobile cleaning cart as an all-in-one solution is a great way to save room if that is the case.
What if you don't have a pantry in the first place? You can buy a floor model unit or repurpose an existing cabinet to make your own.
Ways a pantry can improve your life
Pantries use minimal space
Consider installing a tall pantry when space is at a premium in your kitchen. Adding a pantry to your design does not require a huge kitchen. Also, pantries are great for making the most of storage space. This is because they have many ways to store things, like drawers and shelves.
They make efficient use of limited space
Do not allow corner areas to get in the way of your kitchen's design. Corner pantries make the most of small spaces using only a few square feet of floor space. To top it all off, this pantry has a full-length door that makes it simple to get in and out.
If you have an L-shaped kitchen, putting this unique element where the two cabinet runs intersect is a terrific way to increase storage capacity.
Save you money and time
Everything you need is in your kitchen pantry, making it one of its most significant advantages. You won't have to waste time looking for misplaced jars and tins when everything is neatly arranged. Have you ever been looking for something and found that you no longer have any of it?
Pantries for clearing work surfaces
Kitchen pantries are a great way to get rid of clutter and make your workspace appear cleaner. A pantry in your kitchen allows you to organize your things to suit your needs best. Cooking utensils such as coffee makers and microwaves have their place in the pantry.
Conclusion
With careful planning and strategic sacrifices, you can put all your pantry essentials in there. If you know what containers to use and how to store your food, keeping a tidy pantry is a piece of cake.