Concrete is usually thought of as an outdoor material ideal for garage floors and driveways. It can, however, be decorative and is the best, low-maintenance choice for the kitchen floor.
Concrete is non-porous as long as it is correctly sealed, making it stain-resistant and extremely simple to maintain and clean.
Concrete, as a porous material, requires frequent cleaning to remove grime and dust. Furthermore, it absorbs substances quickly. As a result, different easy cleaning solutions are required for each type of concrete kitchen flooring.
Concrete is not only highly durable, but it is also a cost-effective flooring option. The reason is that it does not require the installation of another flooring covering on top of it. Concrete flooring should last a lifetime if properly cared for and maintained.
No products found.
How to Clean a Concrete Floor in 5 Easy Steps
The simple methods below will show you how to clean concrete kitchen floors.
Step one: Get rid of all loose dirt
Ensure that you remove all the dirt on the surface of your concrete kitchen floor. A soft broom will do for the task. Consider also using a dry mop or a vacuum. This prevents the floor from getting scratches while cleaning.
Use a duster to wipe down the floor to remove even the smallest particles. The objective is to have a spotless concrete kitchen floor.
Step two: Mix the cleaning solution
Depending on the product's instructions, use water to mix your cleaner. Check to see if the cleaner is compatible with the sort of flooring you have. pH neutral cleaners, for example, are ideal for polished and sealed floors. It's possible that cleaning them with citrus-based chemicals, vinegar, or ammonia will harm them.
Step three: Spray the cleaner on the floor and soak the mop in it
Spray the cleaning solution on a clean, concrete kitchen floor with caution. It is best to also soak the mop in the cleaner before using it to mop the floor. Mop thoroughly in places with difficult stains, being careful not to damage the concrete.
Step four: Soak the mop in clean water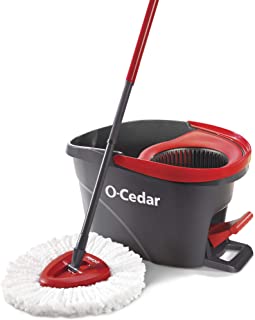 Use clean water to rinse the mop. You can do this after mopping with the cleaning solution, then use clean water to mop the floor. This is to get rid of any soapy water or solution that the cleaner has left behind.
Repeat the technique as necessary until the concrete kitchen floor shows no indications of soap. Any soapy remnants on the concrete floor especially when left repeatedly over can cause the floor to become slippery. For this reason, this last clean with plain water is crucial.
Step five: Let it air dry before using it
You can let fresh air flow dry the floor or use a soft dry mop to dry it. Your kitchen floor is now ready to use after drying completely.
Here are some of the best ways to clean concrete kitchen floors periodically:
Cleaning Concrete Floors on a Weekly Basis
It is best to schedule a time to clean the concrete kitchen floor at least once a week, beginning with dusting and ending with wet mopping.
Dust mop the floor
The more frequently you dust mop your concrete kitchen floors, the less you will need to use cleaning methods that involve a little more effort. With the help of dust mopping, you will prevent dirt and debris from gathering on the floor's surface.
While any soft cotton strand may pick up dirt, a microfiber mop will most likely outperform all other dry mops. The static charge generated by microfiber mop heads attracts dust and other particles.
Before beginning the job, go outdoors and shake out the mop head to ensure the tool you're working with is clean and does not have any dirt accumulation.
No products found.
Wet mop the floor
Concrete flooring, like other kinds of durable flooring like natural stone and tile, often requires a thorough once-a-week clean by wet mopping. There are a variety of wet mop choices available, ranging from steam mops to traditional bucket-based mops.
It would be best if you tried out different kinds of mops to determine the one that best suits your floor and your cleaning needs.
While steam types aren't ideal for hardwood floors, they can be a great way to clean a variety of concrete floors. The reason is, steam penetrates the surface and extracts built-up grime and dust.
These procedures will clean any concrete kitchen flooring, including polished, painted, sealed, stained, and unsealed surfaces. If you have a specialty finish like paint, you'll need to be particularly cautious about the kind of cleaning solution you use to avoid damaging it.
Concrete Floor Cleaning on a Yearly Basis
Some homeowners might want to seal and wax their concrete kitchen floors every 12 to 18 months. You can seal and wax concrete to help protect it from wear and tear and ensure it looks new for longer. You have the option of hiring a professional to perform this annual flooring maintenance or doing it yourself.
Apply sealant to the concrete kitchen floor once every year, after you've finished your weekly mopping and cleaning. After that, to increase the sealer's effectiveness, apply multiple coats of wax over it.
What to Look for When Choosing a Concrete Kitchen Floor Cleaner
When using a wet mop, a little soapy water is generally adequate to clean a concrete kitchen floor if you dust mop often. But if the floor requires a little additional maintenance, a variety of commercial cleaning products may help.
Alkaline and acidic cleaning products
Acidic cleaning solutions use phosphoric or hydrochloric acid to offer a more aggressive cleaner for tough rust stains, grime build-up, and a white salty residue known as efflorescence that stains sealed concrete surfaces.
Meanwhile, alkaline cleaning solutions are concentrated degreasers that work well on petroleum-based stains, including tar, oil, grease, and soot.
To avoid damaging the surface of your concrete kitchen flooring, make sure you are aware of your existing type of finish before you use either of these cleaners.
Cleaners with a neutral pH
These cleaners are ideal for practically all types of concrete finishes. You should avoid common home cleaning products, like pine-based chemicals and ammonia, as they might damage the finish of your concrete kitchen.
Look for a pH-neutral, versatile cleaner made exclusively for concrete. Remember that most of these cleaning products are concentrated, and you should use water to dilute them before use.
Cleaning Concrete Kitchen Floors Tips
A basic concrete kitchen floor cleaning routine needs to include:
Applying a sealant to the flooring to protect it.
You need a mild detergent with water to damp mop.
To avoid stains, clean spills as soon as possible.
Mopping with a dry mop gets rid of dirt and debris while preventing abrasion.