If you're remodeling your kitchen, you're definitely thinking about a slew of different things. Countertops, cabinetry, and the general layout are just a few factors to consider when planning a new kitchen design. An excellent place to start is with the floor plan or layout.
Maybe you're thinking about making your kitchen more open to the rest of your house. Has the concept of private dining rooms gone out the window? This is a question that a lot of homeowners ask as they start to plan their home improvements.
Separate Dining Spaces
In the past, kitchens were isolated from dining rooms and meal-serving places. They were dim, small, and frequently dirty. Since then, things have changed. Separate dining rooms have fallen out of favor in modern society.
In many homes, an open area often separates the kitchen and dining room. In the present day, however, an open concept kitchen design is becoming increasingly popular among homeowners who desire a really open environment. In such a layout, few or no walls separate the kitchen from the adjacent living areas. Its bright, open feel is ideal for compact kitchens in houses with dim lighting.
To see how dining rooms stack up against eat-in kitchens
You want to renovate the kitchen's interior, but you're having trouble deciding on a design style. Your current state of mind might be having queries and confusion, such as whether or not to incorporate an eating area in the kitchen. To make a wise decision, it's necessary to have a fundamental understanding of the advantages of having both styles. To make your decision a little easier, let's look at the benefits of a separate eating place and an eat-in kitchen in your house.
Which would you prefer, a formal eating place or an eat-in?
When it comes to dining, the idea of eating in one's own kitchen has long been appealing. An eat-in kitchen is a kitchen that you can use for food preparation and multitasking simultaneously. It's a gathering spot for family and friends. It also doubles as a kitchen for preparing meals. Adding and rearranging tables and chairs is simple in an open-concept kitchen with an eat-in area.
Your options for setting up an eat-in kitchen will depend on the size of your kitchen. These include:
It is a good idea to have a dining table that can accommodate a larger number of people in homes with large kitchens. If having a separate dining room isn't an option, you can have a more formal eating space.
Make the most of the extra space in your kitchen by creating a cozy breakfast nook.
When there isn't enough room, a kitchen island or breakfast bar with creative counter stools might be a perfect solution.
Formal social or family meal gatherings would be better served in a dining room. Decorative furniture or other items of practical storage can be found at the table's ends, as well as chairs and tables.
Mirrors, vases, flowers, and photos of loved ones or beautiful landscapes are great ways to brighten a dining area. Adding a corner table to your dining area is also a good idea. You can display decorative things on them, but they can also serve as a resting place for diners' glasses, cell phones, and the like while they eat. Cupboards for storing dining supplies might be included in this room's design.
Choosing between a dining room and an eat-in kitchen isn't always black-and-white. It's possible to have both an area for a quick dinner with your family before heading out for the day and a more formal dining area for friends if you have enough space and money.
Eat-In Kitchen
Multi-purpose countertops are common in eat-in kitchens, which allow for informal dining. It's best suited to families who prefer to dine in a more casual setting and don't often entertain guests. A kitchen where people can sit down and eat has several benefits. Cleanup after meals becomes less of a bother and more of a part of the family dining experience when you move food from the cooktop to the countertop with no effort.
Dining Rooms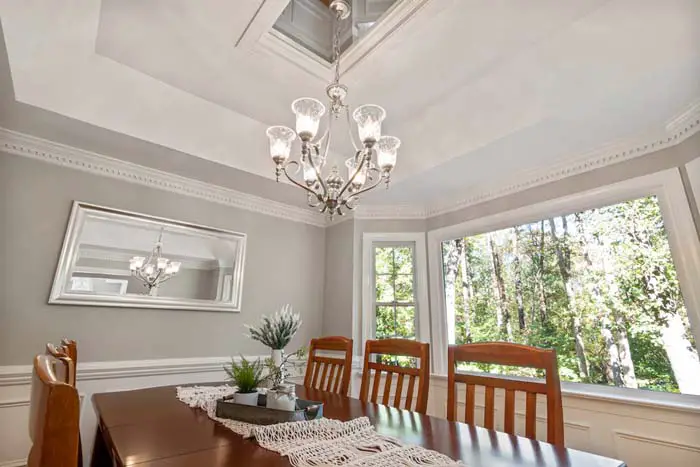 Nowadays, dining rooms remain a common feature in many homes. It's a nice place for the whole family to gather and have a fantastic supper. It's ideal for formal meals, particularly when hosting a house party with many guests. Look into the benefits and drawbacks of having a separate dining room or eating area in your home.
Pros:
As many people as possible can sit down for lunch or dinner.
Take your time and enjoy your meal.
A quiet setting for dining away from the kitchen's distractions.
Cons:
Service, hosting, and other social activities in the kitchen might take a long time because the space is so limited.
Takes up more room in your house.
Should You Design an Eat-In Kitchen?
Consider your lifestyle before contacting a kitchen contractor to build an eat-in kitchen. Do you usually have visitors in your house? Do your loved ones dine together? Besides eating, do you use the dining table for anything other than that? If the answers show that you don't eat at regular times and eat when you feel like it, an eat-in kitchen might be better.
Having a kitchen and dining room in your home is also a good idea. This will allow you to have a more formal dinner with friends or family; you have both options. Adopting an open floor design may merge the dining room and kitchen into a single room, making it easier to entertain guests.
What's Important to Your Family?
Typically, eat-in kitchens are ideal for smaller to medium-sized households. They're easy to use because everyone has access to food and dishes right next to the dining area, which is convenient. This might be especially crucial when parents and children hurry to have breakfast to go to work and school on time.
Larger, more formal meetings usually take place in dining rooms. A dining room's capacity can range from six to more than a dozen people, depending on the age and design of the house. A separate dining area may be necessary when entertaining large groups of people.
When feeding a large crowd, even if your dining area is close to your kitchen, transporting food and dishes back and forth can still be a pain. Others have difficulty eating when they see dirty dishes and feel pressured to complete their meal fast to avoid a messy kitchen. Because of this, dining in a separate dining area can be more enjoyable.
A dining room may be included in purchasing a home, but the buyer may not use it. Using a room as a home office or for another reason is acceptable. Everyone should know what the space is ideal for so it doesn't become a dumping ground for things like junk mail or toys.
Do you need a separate dining room if you have an eat-in kitchen?
Personal taste, the size of your home, and the number of people in your family will all play a role in whether or not you need a separate dining room in addition to your eat-in kitchen. A large family may not be able to dine together at once in your kitchen's eat-in space. Do you want to get rid of your second living room and turn it into a dining room instead? Does your kitchen have walls to demolish to create a dining room and an open-plan kitchen instead? If you're thinking about remodeling or building a new kitchen, consult a kitchen professional, contractor, or architect who can provide various eating options.
Conclusion
The kitchen is a natural gathering place for friends and family, so what could be handier than dining directly next to the kitchen? Eat-in kitchens let guests and chefs talk to each other, make clean-up easier, and keep the atmosphere casual.
Are there walls you could knock down to create a continuous, open-plan kitchen and dining room instead? Hire professionals to create your dream indoor space!