Slippery hardwood flooring is dangerous to the home occupants and worse if extending to the kitchen.
Traditionally, hardwood flooring isn't slippery; however, it can get slick because of using oil, cleaning products or polish, wet spills, an old finish, or grime.
It is dangerous to walk on a slippery floor as it can cause injuries and falls. Slippery floors whether causes by wrong floor or floor finishes or due to liquid spills are a major kitchen safety concern.
Additionally, furniture slipping on the floor can damage the finish or cause scratches on the surface.
Common techniques of making hardwood floors less slippery include applying an anti-slip coating and cleaning up the floor frequently.
Using non-slip rug pads or carpet tape to put big rugs in place and adding a carpet runner to stairways will help prevent accidental slips.
Choice of finish for less slippery hardwood flooring
You can extend the lifespan of both hardwood and engineered floors by tenfold through careful maintenance, which includes applying a finish.
There are various types of hardwood floor finishes for hardwood flooring. Oil, wax, and lacquer are the three most common finishes.
Knowing the properties of each finish will help to offer the best solutions to make wood (hardwood/engineered) less slippery.
Common floor finishes include:
Wax and lacquer finish
Applying a wax or lacquer finish to a hardwood or engineered floor offers a physical protective layer, which is usually seen as a visually appealing and cost-effective option of finish, particularly in high-traffic places like sitting room hallways.
Should I go for wax and lacquer finishes?
Though wax or lacquer finish offers a protective layer, which works as a shield against contact with claws, furniture, shoes, pets, etc., these kinds of finishes present a slipping danger, particularly under conditions like freezing wet shoes.
Oil finishes
Oil finishes penetrate deep into the wood. It helps to deliver an unrivaled level of supple breathability.
This will safely let the wood contract with weather conditions (and let the wood bend and rebound under heavy footfall).
The key fact to take into consideration is that an expertly oiled hardwood floor is usually nonslip. This will be advantageous in kitchens with young kids where slippery surfaces pose a major risk.
Is oil the best choice?
Unlike other finishing, selecting the oiled floor means that furniture, shoes, and other daily things will get into contact with the floor.
For this reason, it will increase the risk of damage and might imply increased costs when it comes to maintenance (i.e., refinishing and sanding).
Methods of reducing slipping on wood floors
Using non-slip pads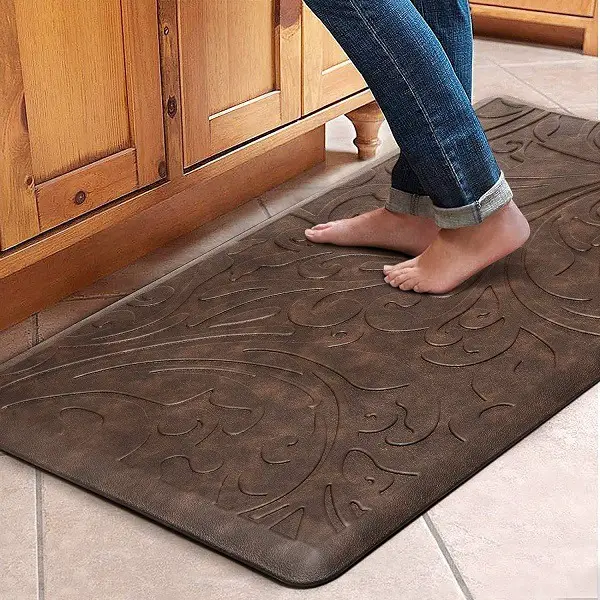 At times, it isn't the fault of the floor when your or your family member slips down. The shoe bottom may have lots of slippery residues.
To get rid of the slippery residue on shoes, you can place non-slip doormats or pads in doorways or near the sink and encourage your family member to use them.
If there are lots of hazardous areas in your kitchen, you should strategically litter these places using non-slip pads.
Additionally, remember to cover high-traffic places. Select prints that complement your kitchen's overall design so that your house will still look welcoming.
It is best to place doormats at the kitchen's entry to prevent any tracked-in moisture from outside or other slippery material.
This is also is a way to stop a hardwood floor from getting scratches caused by soil and other tough particles tracked under the shoes.
The floor stays clean
Sweeping a hardwood floor frequently will help in minimizing a build-up of daily dirt and debris.
Pet hair and dust can also add a slippery loose surface layer to this type of flooring.
Anti-slip coating
They are commonly available to use both outdoors and indoors. These products usually need a double coat, spread thinly.
It will help if you let each coat dry for up to ten hours. The coating shouldn't affect the hardwood floor's color.
While you can apply some on the existing finish, others might need you to sand the finish before you apply.
Remember to first test the coating on a small concealed spot on the kitchen floor to see its effect before applying it on the whole kitchen floor.
Drying the floor after you mop
A kitchen floor gets slippery when wet. This occurs during or after damp mopping using cleaner or water. Use a damp cloth to rinse the cleaner and get rid of any water with a dry towel.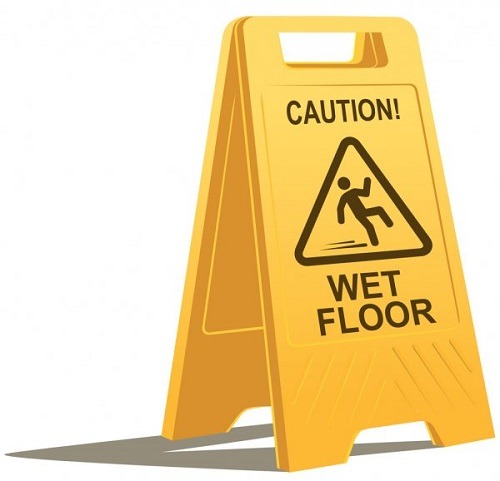 At the kitchen entrance, you can put a "Wet Floor" sign while you clean for creating awareness for everybody. Only permit traffic after the kitchen floor is dry.
Select sensible footwear
This might appear to be an obvious or trivial statement to make as a way of preventing a fall or slip trip on a hardwood surface; however, the right footwear is a simple solution worth noting.
Stay away from hard heeled shoes or socks, and rather choose rubber-soled sports trainers or house slippers.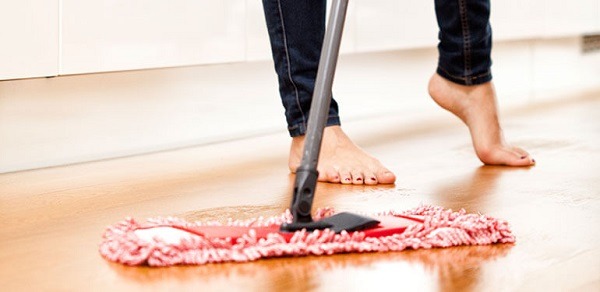 Besides creating a stain mark on the floor, spills can make your floor extremely slippery and therefore create a safety risk.
So, you need to mop out water and oil-based spills on your floor right away and dry the area. It's hard to get rid of stains on hardwood floors and the stain removal process can easily damage the finish as well.
Removing the polish or wax coating
Polishing or waxing a hardwood floor will make it get back the shine and appear more stunning.
Some products made for this work might create a slippery residue on the finish after constant use. You can use a water and white vinegar solution to get rid of the old polish or wax.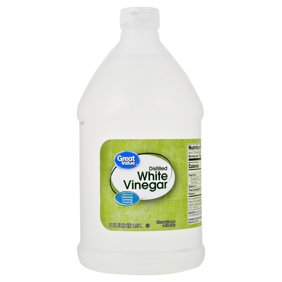 Take a bucket and mix in it 2 parts of water and 1 part of white vinegar. Use the solution to saturate a soft mop, squeeze out the excess, and remove the wax or polish film.
You can remove the vinegar with another soft damp cloth and allow the floor to dry. If you're dealing with a lot of polish and wax build-up, you might repeat the procedure.
Frequent clean up of hardwood floor
Clean up is the main way to maintain this type of floor. In addition, it will prevent grime build up that can create slipping.
A microfiber dust mop or soft bristle broom is used to remove debris, hair, and dust for a safe kitchen floor.
It is highly recommended that you use a homemade cleaner or an ideal cleaning product to deep clean the hardwood floor occasionally.
Remember to use a damp mop and dry the floor. A properly cleaned up and dried floor shouldn't be slippery.
Use the recommended cleaning products
There are lots of products out there, which manufacturers allege to be effective and gentle.
At times, you might leave the kitchen floor with a slippery and dull residue upon using a cleaning product. So, know more about a cleaning product you want to use on the floor.
In case you're uncertain about the product, test a small concealed area of the floor for a while before you use it on the rest of the kitchen floor.
If a cleaning product creates a slick residue or leaves the surface dull, stop using and think about other ways to remove it from the kitchen floor.
Refinishing and sanding
Make sure you sand and refinish a slippery kitchen floor. You should remove the old slick finish that has wax or polish coating by sanding it and apply a new one.
Additionally, this process can provide your floor with a fresh look and an improved protection of the hardwood beneath. Seek the services of an expert to sand and apply a fresh sealant.
Conclusion
It's a safety measure that kitchen floors have enough traction. Slick kitchen floors are hazardous to tread on.
The best news is that you can manage the hardwood's slipping through the right maintenance and care. This will see your kitchen last for many years to come.